Stronger ratings and reviews can lift conversion rates, mitigate returns, and fuel product innovation for footwear brands.


Review collection strategies for footwear brands include post-purchase email campaigns, review sweepstakes, and product sampling campaigns.


Footwear brands can optimize their review display through a customized review form, customer Q&A, and size fit sliders. 



Tools like product sentiment and review search analytics can help footwear brands glean more insights and value from their reviews.
Reviews have always been important. They increase consumer confidence, lift conversion rates, and boost SEO.
But now, as ecommerce becomes more ubiquitous, they're absolutely essential. 
According to our latest survey of over 6,500 consumers across the United States, ratings and reviews have become the single most important factor impacting purchase decisions, ranking above price, free shipping, brand, and recommendations from family and friends. A staggering 86% of online shoppers (and 51% of those who shop in-store) say they simply won't buy products without reading reviews first. 
In a world where commerce is increasingly conducted online, reviews and user-generated content can give consumers the information they need to make confident decisions. 
For footwear brands, reviews can answer questions about size, fit, durability, and more. They can provide information beyond a simple product description, arming consumers with feedback from shoppers just like them.
Below, we share best practices for collecting, displaying, and leveraging reviews in the footwear space, using real-world examples from successful brands.
Collecting Reviews: Best Practices for Footwear Brands
From email campaigns to sweepstakes and product sampling, savvy footwear brands are finding effective ways to generate reviews.
Ask your customers for reviews via email
Email is one of the most popular avenues for asking for reviews — and one of the most successful. Our data shows that 80% of all reviews originate from a post-purchase followup email. After implementing review request emails, one PowerReviews customer saw over a 1,000% increase in review volumes the very next month!
With results like that, you'd be crazy not to email your customers asking for reviews.
Set up a post-purchase drip campaign for review collection, and you'll never miss an opportunity to follow up with a customer for their feedback. You'll always have a steady stream of fresh reviews trickling in.
50% of consumers claim they need to be incentivized to write a review, so give the people what they want!
By incentivizing your clients to leave a review, you can grow your review volumes for a low cost and minimal effort. Plus, our data shows that brands see a 260% increase in collection when they incentivize their consumers. 
Throw a review sweepstakes, where each review counts as an entry. One of our apparel clients saw a 290% increase in review collection in just 45 days thanks to this strategy!
Power Pro Tip
To build consumer trust, be transparent and tag any reviews that are generated via a sweepstakes, like FootJoy does:
With PowerReviews, you can even tag your syndicated reviews. For example, this review at Zappos originally came via a sweepstakes on the FootJoy website:
Generate reviews for new products with a sampling campaign
Our data shows that there's a direct, linear relationship between the number of reviews a shopper is exposed to on a product page and the lift in conversion rate. When just one review is added to a product page, the product's conversion rate lifts by 52.2%. Add ten more reviews, and it increases by 102.9%! 
There's only one problem: all new products start out with zero reviews. Fortunately, you can spin up reviews quickly with a sampling campaign. Sampling is a great way to incentivize reviews, especially for newly launched products. Here's how it works.
Offer customers a free product sample, physical coupon, digital promo code, or gift card to redeem a product for free.

Tell customers that you are looking for their feedback. 

Sit back and wait for the reviews to come in.
Because you've already given customers a free product, they're more likely to return the favor with a review. We've found that review submission from a product sampling campaign can range from 60% to 90%. Great, right?
Displaying Reviews: Best Practices for Footwear Brands
Now that you know how to generate reviews, let's talk about displaying them for maximum impact. 
Customize your review form for better results
The basic review form asks shoppers to provide an overall star rating and describe their thoughts. That works fine for some brands, but footwear shoppers have much more to consider. 
Athletic or running shoe shoppers may wonder how heavy a shoe is, and if it'll be a pain to carry around in their gym bag. Dress shoe shoppers may need to know whether the shoe can stand a night on the dance floor, or if the color truly matches the product photos.
You can address these concerns with a custom review form. At PowerReviews, we call these merchant-specific questions. They offer two benefits: You can collect more data around your consumers, while at the same time, helping future customers make more confident purchasing decisions. This leads to better conversions and fewer returns. It's a win-win. 
Take a look at how Crocs does this: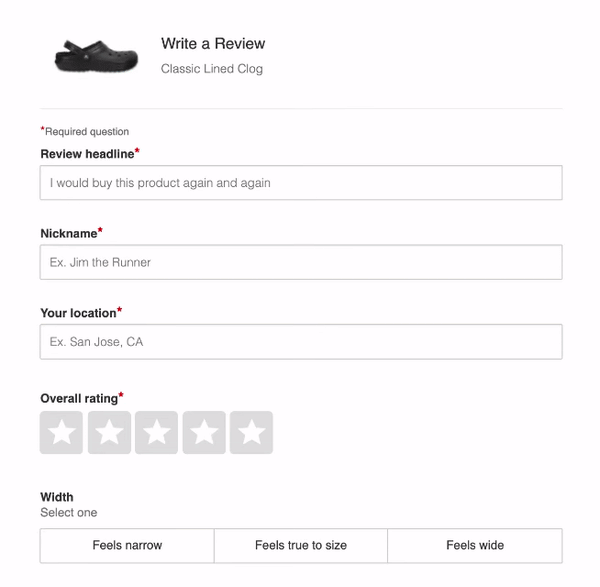 By inviting customers to click on a selection rather than fill in the blank, it's easy for customers to quickly check off what feels true to them. It also primes them to write a more detailed review.
Once the review is published, all of the reviewer's selections show up on the product page:
They also appear in summary form at the top of the reviews. This information helps shoppers answer critical questions about a shoe. They can even click on the filters to find reviews from people with similar size and style concerns:
Power Pro Tip
Ask questions that are specific to your brand and products. If you're selling athletic shoes, prompt reviewers to talk about how far they run, indoor or outdoor, or what sports they play, and ask how the shoes hold up for those activities.
Invite discussion with Q&A
Even with a stellar review form like Crocs, a review can only answer so many questions. Shoppers will still have additional questions they want to ask. That's where Q&A comes in.
Q&A gives footwear retailers a chance to connect with consumers during crucial purchase blocking times. Customers may have questions about material, size, or feel. By inviting customers to ask questions and allowing others to answer, footwear brands can mitigate cart abandonment — both for this shopper and future shoppers with similar concerns. 
Reduce returns with crowdsourced size and fit information
Clothing and footwear brands have some of the highest return rates across industries. According to a report by Footwear News, 57% of footwear is returned because it didn't fit. Stop the bleeding by helping consumers choose their best fit with a Size/Fit Slider on your review display. 
This simple feature can work wonders for reducing return rates. Customers can rate the size and width of a shoe. Here's an example of the Size/Fit Slider in action, via Shoe Carnival:
Leveraging Reviews: Best Practices for Footwear Brands
Reviews can be leveraged throughout your marketing. Here are three smart ways footwear brands can get more use from their ratings and reviews. 
Feature reviews in your email marketing efforts
Reviews provide powerful social proof. Boost sales by featuring them in emails advertising your holiday promotion or latest footwear line. Need to remind shoppers of your best-sellers? That works, too.
Power Pro Tip
Give your copywriters a break and let your customers do the convincing, by including a snippet of the review. Check out this example from PGA Tour Superstore:
Mine customer reviews for new SEO keywords
One of the pillars of SEO is using the same keywords your customers use. But language is always evolving, and sometimes we marketers make the wrong assumptions. 
Stay in lockstep with your customers by regularly reviewing your reviews for key phrases and terms that keep popping up. Are you speaking to these terms in your product descriptions? If not, they may be due for an update.
Power Pro Tip
PowerReviews customers can mine these insights quickly via Review Search Reporting. With this tool, you can see the specific keywords customers are entering in when they search through your reviews. Then, you can use that information to update your product descriptions and enhance your SEO!
Understand customer sentiment around your products
Reviews provide direct insight into how your customers feel about your products. By looking at the reviews for a particular shoe, you can see how your customers feel currently, and whether their sentiment has changed over time.
Footwear brands can use sentiment to innovate product design, update their catalog, and determine where to invest their marketing budget next. For example, a shoe with low ratings and countless reviews mentioning "small fit" may be in need of a retooled product description, or a more material change like a redesign. Once the brand makes those improvements, they can track customer sentiment through their reviews. 
Here's an example of a dashboard generated from review content received:
Power Pro Tip
Need to change customer sentiment fast? Try a product sampling campaign to generate new reviews quickly.
Reviews and Footwear: A Perfect Fit
Ratings and reviews are an essential part of retail. Footwear brands can squeeze more value from their reviews by leveraging the best practices above. Increasing review collection, optimizing your review display, and leveraging those review insights in your marketing and product development are key to a successful footwear strategy.