The key to winning in today's competitive retail environment is a deep understanding of your target consumer and how successfully you are meeting their needs.
Product Sentiment Analytics gives you the superpower to understand how your customers really feel about your products and brand.  With this tool you have the ability to unlock insights on the feedback provided by your customers' UGC. 
"UGC Analytics has opened up a completely new customer experience data source for us. Ratings and reviews are great validation and social proof for other customers. But using this information to drive tangible change makes sense on so many levels. In the first month alone, we were able to identify and size two process issues from our review data. We implemented corrective action right away for huge impact."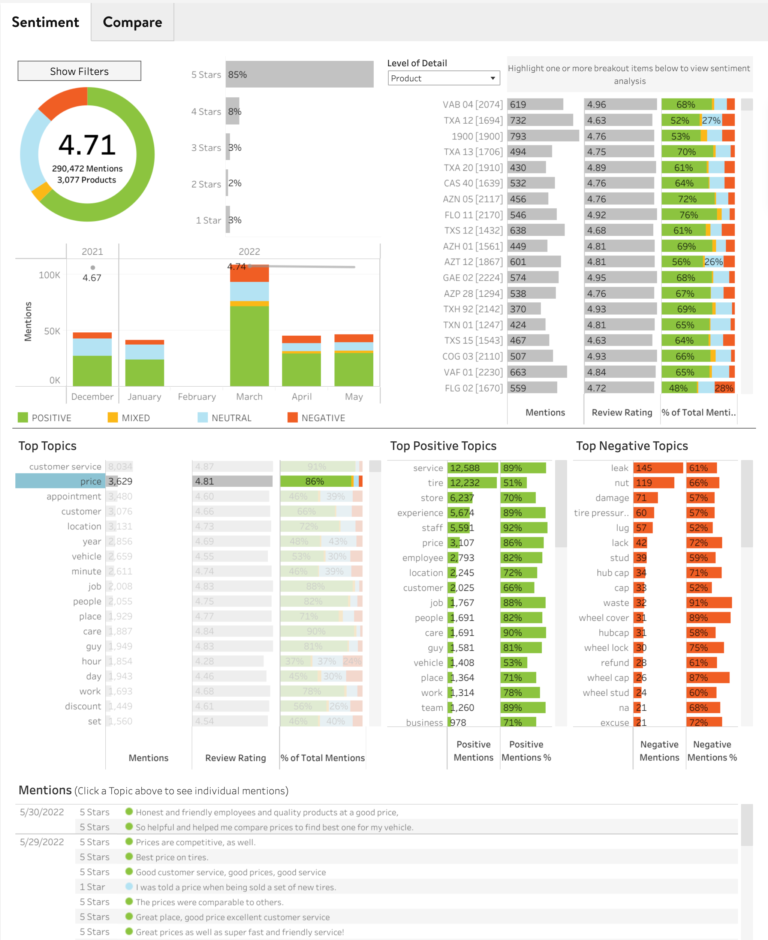 Why Product Sentiment Analytics?
Surface key topics and descriptors immediately and track how sentiment trends over time.
Drill into specific products, categories, and custom product groupings to understand customer sentiment and trends.
Save big on resource-intensive and expensive analysis and investigative time. Focus group level insights, without the price-tag.
Our customers use Product Sentiment Analytics to:
Drive internal product improvements

Make better merchandising decisions.

Optimize product descriptions

Improve product ratings
Using Product Sentiment Analytics, one customer increased their star rating jump from 2.7 to 4.3 stars after fixing a faulty clasp on a watch.
conversion lift for products with a star rating of 4.25-4.49 compared to those with 2.00-2.99 stars.
The Only Algorithm Trained On UGC
Pieces of UGC (77M Reviews, 2M Questions & Answers) Powering Our Analytics Platform
Unique Adjectives Identified For More Specific Analysis
Unique Feedback Topics Elevated for Further Exploration and Action
"UGC Analytics enables me to aggregate our customers' opinion. This has armed me with critical evidence to go to our merchants and say 'look at what our customers are saying, you need to fix this'. This insight is such a time saver for us."
Our Analytics Platform Includes: