Product sampling is one of the fastest ways to receive customer-generated reviews.
But it's not just about the volume of your reviews; it's also about the quality. 
Let's look a little deeper at why product sampling campaigns are so effective. Along the way, you'll learn how you can leverage this knowledge to make sure your campaigns are more effective than the competition's.
Why Product Sampling is So Powerful
When someone begins a search for your product online, they're not always looking for the product. They might be looking for product reviews. 
63% of people now say that they seek out websites for the purpose of researching customer reviews.
If your product doesn't have great reviews, you're already lagging behind the competition. How can you catch up? 
Product sampling offers some of the most efficient and cost-effective marketing to incentivize high-quality product reviews. It works by employing several psychological principles to drive response:
Reciprocity is a foundational element of persuasion featured in Robert Cialdini's book Influence. Cialdini cited one study in which waiters and waitresses provided customers complimentary mints along with the check. Customers reciprocated with higher tips: They gave 3% higher tips when one mint was provided and 14% for two.
We're social creatures, and our search patterns reflect this. Social proof means we look to other people to "prove" a concept before we try it. That's why data shows one-quarter of search results for the biggest brands are links to customer-generated content. Customers trust the wisdom of the crowd.
According to Pew Research, half of adults under age 50 search out online reviews before making new purchases. If you don't have product reviews in place, these users may not even find your product in their research
Here's the catch: Your competitors also know that product sampling is a great formula for generating these results. 
So how do you leverage product sampling to beat the competition that's already engaged in proper sampling? And can you do it on a budget?
What's Missing from Ordinary Product Sampling Campaigns?
Most ordinary product sampling campaigns focus solely on generating reciprocity. They don't focus on creating a product sampling campaign that functions like a sophisticated marketing program. 
Here's what they're lacking:
In the digital era–especially when so many of us are working remotely or practicing social distancing–word-of-mouth happens online. 92% of people find this effective in marketing campaigns. Does your product sampling campaign make it easier for users to share word-of-mouth, or are you just hoping it will?
Don't perform your product sampling in a vacuum. Your product sampling campaign should include data collecting. You want insightful, user-driven data that can assist a product sampling program in the future. That's what happened in Vornado's case, who leveraged these insights with PowerReviews. They saw their sampling campaigns move from an 83% completion rate to 97%.
Genuine user feedback hits key psychological triggers, which makes potential customers trust that your product is high-quality. Consider that in the health & beauty market, consumer feedback has more influence over buying decisions than price. Any product sampling campaign aimed at the quantity, not quality, of reviews will likely lag behind.
How to Make Better Use of Product Sampling
Maybe you're thinking, "Okay, but how can we implement a superior product sampling campaign in practice?"
Even if you don't have a big-time budget, you'll still be able to generate a higher volume of authentic reviews than other providers if you approach your product sampling program the right way. 
Here's how.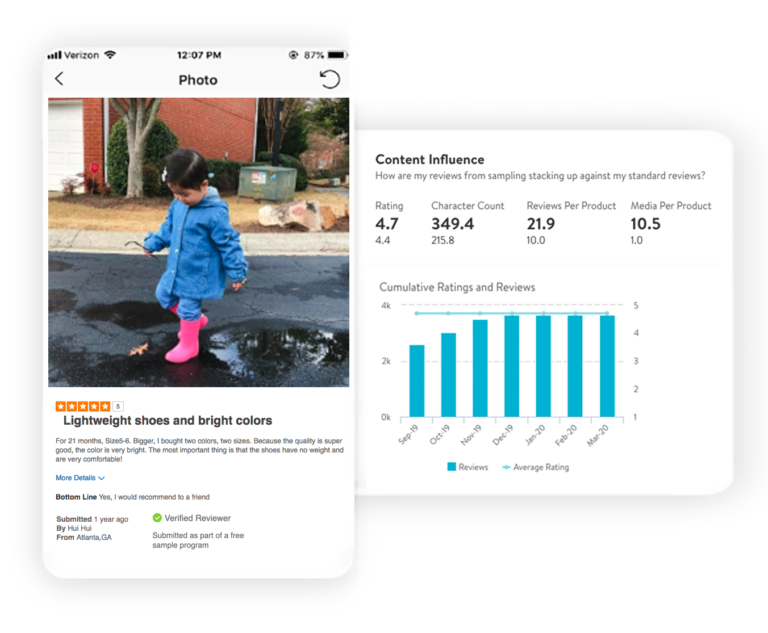 Customer-Generated Visual Content
You don't just want words. Customer-generated visual content is extraordinarily powerful. 
This is especially true for millennials, for whom customer-generated content is 20% more influential than other types of media. Overall, 88% of customers look for visual content in product reviews prior to making a purchase.
Long story short: If your product sampling campaign can collect more customer-generated visual content, you can put it to work across marketing campaigns and social media. You'll have an instant advantage in establishing credibility for your product
Trust for Customer-Generated Content is Higher
This is social proof in action: The more customer-generated content you use, the more your potential customers can trust you. Ads generated from user content can have click-through rates as much as four times higher, with a 50% lower cost-per-click. 
With an effective marketing campaign that reduces your cost-per-click, you can generate more types of trusted customer-generated content without spending big-budget dollars.
Want your product sampling campaign to outperform the competition? Focus on the quality of your reviews. 
One way to measure quality is to look for more engagement. For example, we've found that longer reviews tend to perform better. Marketing efforts focused on a product sampling campaign also tend to generate longer reviews. As Vornado found, their reviews from product sampling resulted in longer reviews.
Reviews collected from sampling campaigns are 44% longer than those collected organically.
Response rate for samples sent vs. reviews written for Vornado's latest product sampling campaign.
Number of reviews syndicated to retail partners.
Product sampling alone isn't enough; the quality of your product sampling campaign matters, too. That's how you go beyond the power of ordinary product sampling and beat the competition's product sampling campaigns.
How to Get Strategic with Product Sampling
Brands do best with a strategic approach to product sampling campaigns. 
It starts with driving a higher response rate. If you can send out fewer product samples than the competition and still drive more responses, you're onto something. 
That requires advanced targeting (targeting based on purchase behavior, demographics, affinity groups, geographics, and more) to make sure that you're sending the product samples to the right people. 
PowerReviews' network of 500,000+ everyday influencers and brand advocates help extend this reach, and as a result, PowerReviews sampling clients see the industry's highest review submission rates (85%+). That means brands spend less on samples, but still generate a higher volume of authentic reviews than with other providers.
What else makes for strategic product sampling with PowerReviews? 
Here's what Alison Krakowiak, our Product Marketing Manager, shared from her perspective:
Our PowerReviews community drives the success of our campaigns and includes about 800,000 consumers from diverse backgrounds. They are highly engaged and genuinely love engaging with new products/brands and sharing their experiences with others in the form of honest reviews.
Having this large community enables us to work with brands to target very specific consumer groups, and we can make sure brands are engaging with the right people for their products. Working with the right people helps drive more relevant and reviews and also converts samples to reviews at a higher rate, meaning brands send fewer samples.
Our clients have enough going on in their day-to-day, so we work hard to make sure our sampling process is easy and fits in seamlessly with their current systems and plans. We include dedicated product managers and optional shipping and fulfillment services so clients can focus on other things while we generate reviews for them.
In addition to helping consumers drive stronger review coverage across their brands/product catalogue, we also help them learn. Reviews contain a huge amount of consumer insights and sentiment, so we analyze and organize those into digestible reports to help brands learn more about their products and their consumer base.
We assign dedicated project teams to each sampling campaign we run, which ensures clients are supported throughout the execution of their program. We handle all questions and issues in real-time before, during, and after a campaign.
How many reviews should you expect per product sampling campaign?
Many brands considering product sampling campaigns worry they'll send out a bunch of product samples (which can be expensive) but that the campaign won't generate very many reviews.
The good news: PowerReviews has been able to deliver 85-90% submission rates for clients due to strong targeting capabilities and consistency in campaigns execution.
"Targeting is key, so making sure we engage with the right customer for the right product will ensure higher submission rates and more reviews," Krakowiak said.
"We can target over 300 different data points–everything from age, gender, and location to where consumers shop, what products they currently use, what their hair/skin type is, and other things like interests, lifestyle, and household income range. Having this data at our disposal allows us to connect clients to customers that matter to them the most and who will deliver the most authentic and relevant reviews."
Product sampling is a powerful way to build credibility and trust with your potential audience because it lets your audience speak to the features and benefits of your offerings (without you having to do it yourself.)
With the social proof generated through high-quality reviews from your product sampling campaigns, you can build trust with your audience, drive more sales, and make data-informed decisions.
Plus: By using a strategic approach, you can generate a higher volume of authentic, high-value reviews than the competition–even if you aren't spending as much on your campaigns.
The bottom line: The impact of product sampling campaigns reaches far and wide, so be sure you're putting it to good use for your brand.