Last week, over 100 PowerReviews customers, partners and analysts gathered in the Windy City for our inaugural PowerReviews Digital Commerce Summit. Over the course of a day and a half, attendees had the opportunity to connect with their peers and hear and share stories about how they're using (and plan to use) user-generated content to build trust, connect with their consumers, and drive success.
We heard from a roster of amazing speakers ranging from a reporter at the Washington Post to leaders from some of the largest brands and retailers on topics ranging from review generation and SEO strategies to customer loyalty and how to get the most mileage from your reviews. I know I learned a ton.
It wasn't all serious, though; we also had plenty of fun. On the first day of the Summit, a latte artist wowed us with his coffee art.
Then, after a full day of sessions, everyone headed to the beautiful Shedd Aquarium to eat, drink, explore exhibits and show off their dance moves at our opening night dinner and party.
If you attended the Summit, thanks for making it an amazing event! I hope you left feeling energized, inspired, and armed with actionable insights for better connecting with your consumers.
If you didn't attend the Summit, read on for a quick overview of what you missed. And keep an eye out in the coming weeks for a summary of key takeaways from several of the keynotes and breakout sessions.
The Transparency Economy
The theme of this year's event was the Transparency Economy, an economy in which individuals are empowered with authentic user-generated content to make better decisions in all aspects of their lives — as consumers, patients, travelers, students and citizens. Authentic feedback drives transparency among consumers and businesses. And transparency drives trust and accountability (which then drives commerce).
The importance of transparency was a key theme that was woven throughout all of the presentations during the Summit. On Wednesday, our opening keynote focused on the role of information and opinion in culture and commerce. Roxanne Roberts, Reporter for the Washington Post, explored where citizens get their information, whom they trust and how that shapes what they believe and how they act. James Rubec, Product Marketing Manager at Cision, discussed how UGC data helped predict the election better than official polls. And Paul Rand, Chairman at Critical Mass and author of Highly Recommended shared actionable insights and best practices to help brands become the most discovered, talked about and recommend in their category.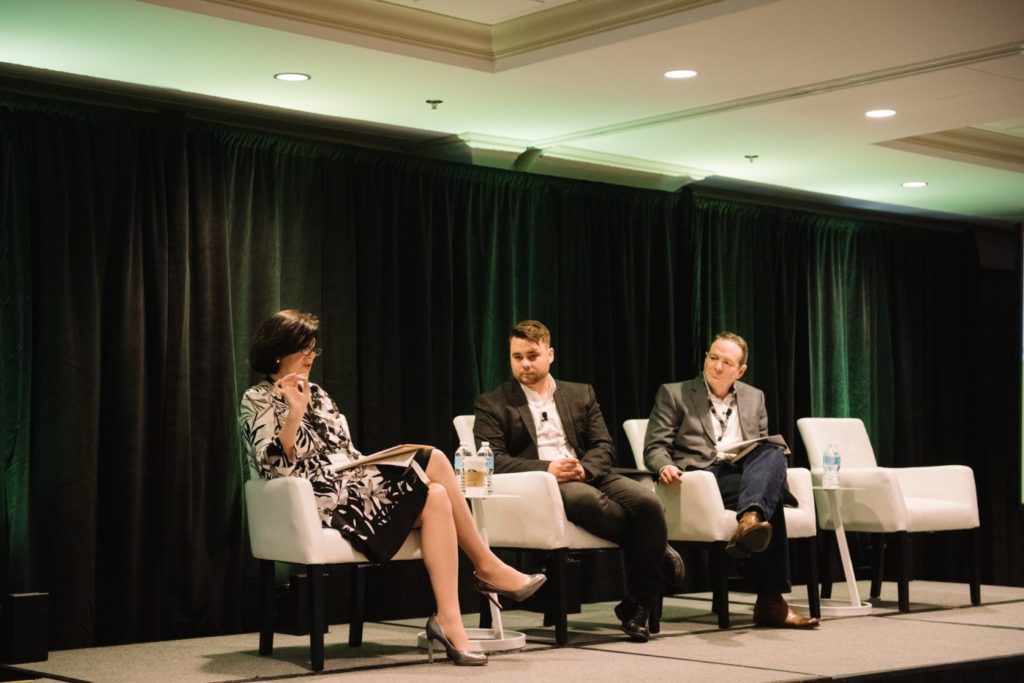 Then, onWednesday afternoon, Rishad Tobaccowala, Strategy and Growth Officer at Publicis Groupe, explored how people and companies are changing their behavior in a high velocity, networked and increasingly transparent age. He also discussed that in order to be successful in today's transparent world, businesses must focus on learning and always have empathy at the core.
Doing Great and Doing Good

Businesses that provide consumers with the information they need to make smart decisions can do great in the Transparency Economy. And they can also do good. Making a positive impact on the world was a key theme of several Summit sessions. Steven Dyme, Co-Founder and CEO at Flowers for Dreams, shared the story of building an innovative alternative to the traditional floral industry, delivering beauty in inspired floral arrangements, responsible sourcing, and donating 25% of profits to Chicago area charities. On Thursday morning, Jessica Droste Yagan, CEO at Impact Engine, shared her story of creating McDonald's Corporation's sustainable sourcing strategy and explored how feedback, transparency, and accountability help businesses, consumers, and workers around the globe. Finally, Dave Heath shared the journey of Bombas, an innovative sock company that has donated 2.5 million pairs of socks to those in need.
User-Generated Content is the Foundation of the Transparency Economy

In the Transparency Economy, user-generated content is the main way consumers share feedback with each other and the companies they do business with. As such, UGC plays a central role in the success of a business. The challenge for businesses is to successfully generate and leverage this powerful content in order to drive traffic, sales and insights.
That's where PowerReviews comes in. At PowerReviews, we're committed to helping you get more content, more reach and better insights. Throughout the Summit, speakers shared information about product capabilities and best practices to help you reach your UGC (and overall business) goals.
Jessica Teji, Manager of Client Success at PowerReviews and Robin Simkins, SVP of Customer Marketing at PowerReviews, shared how product sampling can help brands generate more products for new products, seasonal products, or products with high traffic but low conversion. And Arit Nsemo, another Manager of Client Success at PowerReviews, discussed the growing importance of visual content in the path to purchase and how brands and retailers can get more of it.
Generating content is just the first step. Our session on the PowerReviews Open Network  discussed review syndication, the distribution of user-generated content collected on brand sites to retail ecommerce sites. Our speakers — VP of Product Marketing Rebecca Grimes and VP of Network Danny Harris explored the evolution and expansion of the PowerReviews Open Network and how it's helping brands increase the reach of their content.
Businesses can also use the insights from ratings and reviews to improve products, services and the shopping experience. Arend Henderson, SVP of Analytics at PowerReviews, discussed how to track sales impact, follow the growth of content, and gain valuable product insights. He also shared information on new capabilities that'll allow businesses to more easily identify insights from their user-generated content.
Ratings and Reviews Drive Traffic and Sales Online and In-Store

User-generated content doesn't just help consumers make better purchase decisions. It also helps businesses drive traffic and sales online and in-store. When a product goes from zero to more than zero reviews, that product will experience an average 108% increase in traffic and a 65% conversion rate lift.
Additionally, PowerReviews customers using best practices and the latest technology see even better results. Throughout the Summit, we heard proven best practices that are helping brands and retailers achieve great results. For example, on Wednesday, Arit Nsemo shared best practices to help companies collect more of the visual content today's consumers crave. And during our PowerReviews Best Practices Customer Panel, some of our top-performing customers including Hayneedle.com, Abt, Benefit Cosmetics, Advance Auto Parts, Skechers and Beam Suntory shared their strategies for maximizing the performance of reviews, Q&A and visual content.
Learn More
Want to know more about the insights, tips and strategies that were shared at the 2017 PowerReviews Digital Commerce Summit? Check back each week for key takeaways from a Summit keynote or breakout session.