In a perfect world, customers would buy your products, love them and come to your site to write a great review. The reality is, most shoppers need a little encouragement to write a review, as less than half (42%) of consumers report writing reviews for the products they buy.
What's the best way to encourage your customers to review your products?
With an automated post purchase email simply asking your shoppers to write reviews for recently purchased products. The following guide covers everything you need to know about post purchase emails — from the importance of sending these emails to getting your own Collect Email program live with PowerReviews.
Read the post in its entirety or use these jump links to find the content you need.
What Are Post Purchase Emails?
Post purchase emails are typically automated communications sent to your recent customers a set number of days after a purchase. These emails ask about their experience with your product or service. The idea is to solicit — then display feedback that will help you get more customers and to make your products even better.
The image below is an example of a Collect Email, asking a customer named Jenny to rate the product she recently purchased. Feel like you're ready to dive in and create your own program? See how PowerReviews helps increase your review content.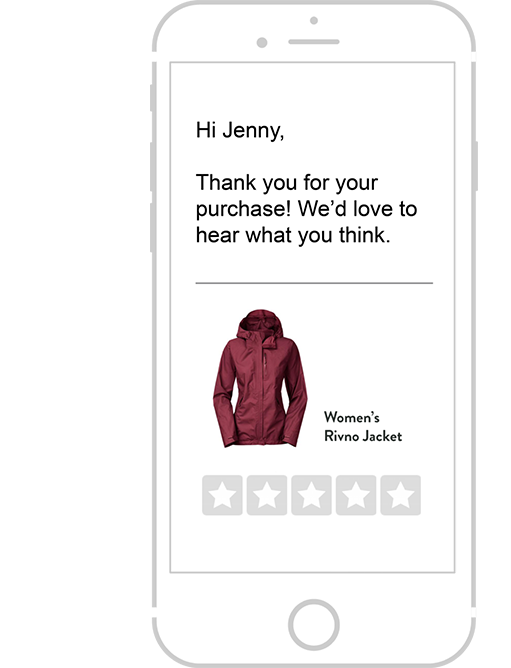 Why Send Post Purchase Emails?
Post purchase emails are the most effective way to generate more products reviews, which are proven to increase traffic, sales and insights. In addition, post purchase emails help you increase the lifetime value of your customers.
Increasing Customer Lifetime Value
Post purchase emails help you build relationships with past shoppers. By letting consumers know that you care about their feedback, they'll be more inclined to turn to your brand when they're in need of a product you sell. And by driving former customers back to your website you also benefit from another potential purchase.
Generating More Product Reviews
One of the best ways to get more reviews is to ask for them. Encourage customers to review the products they've purchased in an easy, streamlined, mobile-friendly post purchase email.
Why Product Reviews Are Important
Product reviews are important for many reasons. For one, Google indexes product reviews, which means the more reviews you have, the higher your products will place in Google search results. This leads to more traffic on your site. In fact, we've found that when a product without reviews adds at least one review, that product experiences a 108% lift in traffic, on average.
Reviews also increase conversion by helping your customers make more confident purchases. When a product without reviews adds one or more reviews, that product experiences an average conversion increase of 65%. In addition, our research with Northwestern University found that reviews are especially important for high consideration items.
Another reason reviews are helpful is that brands can use the authentic customer feedback in reviews — both positive and negative — to improve their products and their customer's experience.
Hammacher Schlemmer, a PowerReviews customer, noticed that a watch they sold on their website had an average star rating of 2.7. After digging into the reviews for the watch, the company noticed that several customers mentioned the clasp on the watch wasn't working. Hammacher Schlemmer took this information to their manufacturer to change the clasp, and the average star rating for the watch climbed to 4.7.
Want yet another reason why reviews are important? Your customers want to read them. 86% of consumers indicate that reviews are an essential resource in the purchase journey.  And 70% of mobile shoppers reported being more likely to purchase a product if the mobile site or app they're purchasing from has reviews.
Best Practices for Post Purchase Email Content
Many elements contribute to the performance of your emails — including design, timing, mobile friendliness and incentives. But one of the biggest factors is the content — the words you use to ask shoppers for a review. Here are some tips to create Collect email content that will drive big results.
Keep Things Short and Simple
Research from Microsoft found that the average attention span of a human is 8 seconds — one second shorter than that of a goldfish. Since humans are easily distracted, it's crucial to keep the text of your emails short, simple and to the point. The purpose of this email is to solicit reviews, so make sure to include a direct call to action to write a review. Avoid elements that will pull customers away from writing a review, such as banners, links to other parts of your website, or other sales or marketing calls to action.
Personalize When Possible
Shoppers have come to expect personalized experiences throughout their shopping journey. Always use the customer's name in the body of the email, and consider including it in the subject line, too. Research from Experian found that personalized subject lines garnered a 26% higher open rate.
In addition, thank the customer for purchasing a specific product. And include a photo of the product so the customer knows what product they should review.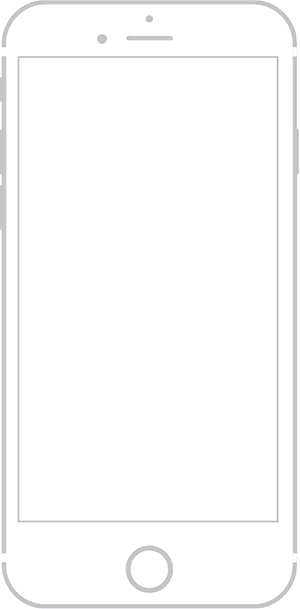 Avoid Truncated Subject Lines
The subject line will play a big role in whether or not the customer opens your post purchase email. So make sure it's compelling. Also, keep in mind that more than 50% of emails are opened on a mobile device. So keep your subject lines under 55 characters to avoid being truncated on mobile devices. Use mobile responsive ratings and reviews software when possible.
Measure, Test and Optimize
Don't adopt a "set it and forget it" mentality when it comes to your post purchase emails. Instead, build your post purchase email program, continuously measure results, and look for ways to improve.
Room & Board, a contemporary home furnishings retailer and PowerReviews user, fully understands the power of email testing. In addition to testing timing and cadence, the company also makes regular updates to the design of the email. As a result of recent optimizations, Room & Board increased their conversion rate of Collect Emails sent to reviews written by 80%.
Consider testing different elements of the email, including:
Subject lines
Headlines
Promotions
The look and feel of the email
If you're seeing a higher conversion rate, great! But keep tracking progress so you know if that number ever starts to dip.
Best Practices for Post Purchase Email Design
Now we'll focus on some design do's and don'ts that can help you improve the performance of your post purchase emails.
Do: Keep it Simple
Keep the design of your post purchase emails clean and simple, with the important elements in the upper portion of the email whenever possible. That way, shoppers will quickly understand the call to action, even if they don't scroll through the entire email.
In addition, avoid banners, links and other promotions that will distract shoppers from writing a review.
Don't: Use a Small Font
Using small fonts can cause your customers to squint and struggle, and potentially miss the value of your follow up message. Because more than half of people are reading their email on a mobile device, it's important to use a readable font size. A 16 or 18 point font size will make your email easy to read — regardless of the device your shoppers use.
Do: Use a Single Column Format
Your multi-column email format might look beautiful on a desktop browser, but there's a good chance it'll get awkwardly broken up on a mobile device, resulting in something that's difficult to read and engage with. Use a single column layout so the email scales down nicely on mobile devices and your customers aren't forced to pinch, zoom, and scroll to see the entire message.
Don't: Bury the "Write a Review" Action
The easier you make it for your customers, the more likely they are to write a review. Make the "Write a Review" action stand out by including an image of the product you want the customer to review, along with a button that takes him to the Write a Review form. And remember — people are using their finger (not a mouse) on their mobile devices. So avoid tiny links and opt for larger buttons instead.
The Best Time to Send Post Purchase Emails
A key factor that can make or break the success of your post purchase emails is timing.
So, when's the best time to send a post purchase email? In general, Wednesdays and Saturdays have the highest conversion rate for reviews. But how long should you wait to send a post purchase email? The short answer is, "it depends." The ideal timing depends on the type of product the consumer purchased.
Hard Goods – 21 Days
Hard goods are items that are durable and don't wear out quickly. Here are some examples of hard goods.
Refrigerators
Washing machines
Computers
Wait 21 days before sending a post purchase email for hard goods. Why so long? Let's say a customer purchases a new washing machine. If you send a post purchase email too quickly after the purchase, the customer has probably only used the machine a few times. But if you wait 21 days, he'll have enough time to get a good feel for the washing machine so he can write a well-informed, thorough review.
Soft Goods – 14 Days
Soft goods are items that are immediately consumed or have a lifespan of three years or less. Here are some examples of soft goods.
As with hard goods, you'll want to give customers the opportunity to try out the product before writing a review. But don't wait too long, since the lifespan of soft goods is much shorter than hard goods and the purchase won't be top of mind for long.
Perishable Goods – 14 Days
Though you want to give customers the opportunity to experience the product, if you wait too long, the product will be out of sight and out of mind. Some examples of perishable goods include:
Cut flowers
Fresh fruits and vegetables
Start Sending Your Post Purchase Emails with PowerReviews
Setting up your own post purchase email program is easy with PowerReviews. Just follow these steps to leverage our Collect Emails tools:
1. If you're not already a user, request a demo to chat with the team and figure out whether our solution is a good fit.
2. Install our Checkout Beacon on your confirmation page. This beacon sends PowerReviews your customer order data so our software can automatically send your Collect Emails to your customers. If you have your own email service provider that's no problem, we can work with you on getting it automated on your side.
3. Edit the content of your email to match your brand. You can tweak the from-name, reply-to address, subject line, header logo, body and footer copy.
4. Preview your new email to make sure that it's capturing the proper data and looks good across multiple devices.
5. Once your email looks the way you want it to, you'll need to schedule it. In the wizard, enter the number of days after the order date when you want your emails to be sent to your customers.
If you have additional questions on how to get started check out our documentation on Setting Up Post Purchase Emails!