The following is a guest post from our partners at Workarea. 
This holiday season will bring an influx of traffic, and for most online retailers a good chunk of this traffic will be new. Whether you use segmentation to serve targeted content, personalization engines or a combination of both, we know more relevant experiences can boost conversion rates and revenue. But how can you deliver personalized merchandising to new visitors without browsing history?
A common merchandising mistake
Many ecommerce sites roll the dice on what customers want, and showcase featured products, brands and categories in prime home page merchandising slots.
While there's a case for featuring hot deals and heavily discounted products, the chances of nailing relevance or appeal for every visitor (or even most visitors) can be slim. This tactic can work great for brands with small catalogs and tight product lines or homogeneous customers, but the larger and more diverse your offering and customer base, the riskier this is.
What's more, these single-shot offers don't help you glean the useful information that helps you personalize the site experience immediately and in future visits. Instead of suggestive selling, think guided selling. Make sure your home page includes callouts for content and categories that match the customer segments you target through personalization, email marketing and other strategies.
Common segmentation attributes include:
Geolocation

Gender

Age

Interests

Ownership (vehicle, device, pet, etc.)

B2C or B2B status
Of course, your business may have its own, based on your product offering and target customer.
Here are 4 tips to convert new visitors through smart holiday merchandising and guided selling. (Bonus tip: you can use these strategies year-round!)
1. Get customers to self-segment
If you're already using an email capture pop-up, ask for one more piece of information from your customers. Not only does this give you a head-start on segmenting your email list, you can pass this data back to your commerce system to serve targeted content and offers based on this context, within the user's session (depending on your ecommerce platform's capabilities). You can also potentially pass this back to your retargeting platform (again, depending on your solution).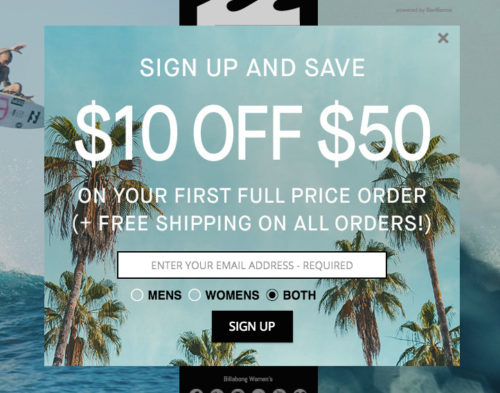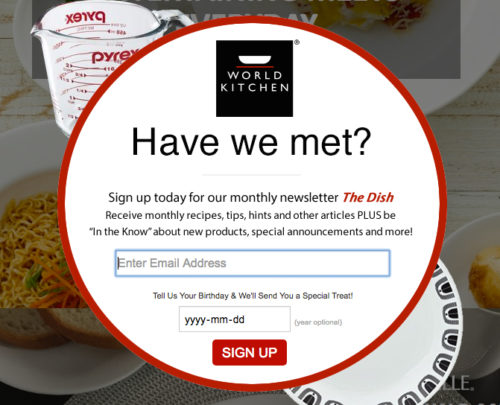 Email opt-in fields also give you more reliable segmentation information. Click-through and buying behavior during the holidays is a poor indicator of what your customer will respond to year-round, when buying context shifts from gifting to buying for one's self.
This can also be done through home page content. Rather than leave the customer to browse the site and filter category lists by hair type, Ouidad puts shop-by-hair-type front-and-center. This provides relevant product results quicker than traditional browsing, and allows Ouidad to segment customers and serve relevant content earlier in the purchase journey.
2. Use Geolocation
Geolocation tools can tailor your experience in a variety of ways. At the country level, show the right catalog with the right pricing and shipping options, free shipping offers and other messaging. For example, the U.S. and Canada's Thanksgivings fall within different months. December 26 is Boxing Day in Canada and the U.K.
Segmenting by state lets you target the right products and imagery by climate, cultural and lifestyle factors. For example, no snow blowers for Arizonians and plenty of umbrellas for the Pacific Northwest.
Different states also have different tax rules, and you may be able to offer faster shipping options in regions near your fulfillment centers. One Workarea customer leverages same-day shipping for time-sensitive Halloween costumes in the regions it can with great success, showing this offer only to the customers it applies to.
3. Offer guided selling tools
"Gift finders" are common holiday merchandising features. Essentially they offer a way to apply multiple attribute filters up-front, versus navigating through the traditional catalog structure and weeding through many more results.
When done right, they anticipate the attributes customers should be thinking about. Like a helpful in-store salesperson, they ask the right questions to give the best results.
Year-round, package your product finder as an interactive quiz. Multi-attribute quizzes work better when customers are shopping for themselves.
4. Feature top-rated products
New customers who haven't arrived with a specific purchase in mind will bypass navigation and search, and browse your recommendations. While featuring trending products on your home page is better than random picks, nothing's more persuasive than the social proof of top-rated products.
Samsonite's home page features a Customer Favorites carousel, linking through to a special landing page.
In addition to a product finder, Carrot Ink's home page features an animated carousel highlighting its top rated products (this also reinforces that Carrot Ink has thousands of happy customers).
For visitors without browsing history, Best Buy provides a bold call-out.
Clicking through leads to a recommendations widget that includes best-selling, most-viewed and top-rated products.
The goal with new visitors is to get them to click and provide your system with data to run dynamic content or personalized recommendations over time.
Remember holiday shopping context
Holiday visitors can be cookied, retargeted through display, remarketed to through email and social and greeted with personalized experiences upon their returns in 2018. However, what's most relevant to them may be radically different when buying context shifts to personal shopping.
Depending on the personalization tools and tactics you're using, you may be able to adjust for this behavior and context to various degrees.
Your safest bet is to keep collecting visitor context through bold, self-segmented content, calls to action and merchandising all year long, and baking it into your overall strategy.
For more holiday merchandising tips (and how to use data to make real-time merchandising decisions post Black Friday), check out our insight-packed on-demand webinar Holiday Merchandising Secrets: Using Real-time Data to Maximize Revenue.
About the Author
Linda Bustos is the director of merchant strategy for Workarea, the modern SaaS commerce platform purpose-built for medium to large businesses to achieve their full potential online.