Consumers want products faster, cheaper and without the fluff. So what are brands doing?
An increasing amount are cutting the middle man (sorry retailers) and relying on their own brand manufacturing to sell directly to consumers. Even though the current ecommerce market is incredibly competitive, we've seen more brands take advantage of direct to consumer marketing and succeed.
A recent eMarketer report found almost half of internet users expect 40-100% of their purchases to be from direct to consumer brands over the next five years.
Connecting directly with your customers gives brands the upper hand to to be the one-stop shop for their target demographic. More importantly, it prevents customers from in-store shopping or even ordering certain products on online retailers.
That means there's a lot less comparison shopping–especially when consumers get their everyday products cheaper, faster and often through a monthly subscription.
While that might sound like a win-win strategy for direct to consumer brands, hold that thought for a second.
Whether you create an amazing product launch strategy or increase social media ad spend, there's still no easy and sure-fire way to get your direct-to-consumer brand to immediately sell. One of the biggest challenges for direct to consumer marketing is getting off the ground in the first place.
That's because you rely less on foot traffic and more on marketing strategies to target small audiences who might be interested. Consumers already have their typical path to purchase–go online to shop major retailers or buy your everyday products in store.
Disrupting this path definitely worked for some brands, but certainly not everyone. That's why we're providing 10 ways to scale your direct to consumer marketing and win in the ultra-competitive ecommerce landscape.
1. Give Your Customers a Personalized Web Experience
Consumers crave an emotional connection. People want to be treated like people, not just numbers.
That's why successful direct to consumer marketing strategies typically have something in common–personalization marketing. By creating customer experiences based off purchasing behaviors and what consumers truly want, direct to consumer brands build easy and effective buyer journeys.
In fact, a study by Salesforce found 84% of consumers said personalization is a very important aspect for businesses to win them over.
The same study also found 67% of customers will pay more for a great experience with a brand. This is why direct to consumer marketing works so well. Brands create better experiences when they personalize and act as the one-stop shop for their needs.
Trunk Club does this perfectly. The direct to consumer clothing company gets their shoppers to work directly with a stylist to help personalize the type of clothing that gets shipped.
While other direct to consumer brands offer a similar product, Trunk Club takes it a step further to provide more personalization. The company succeeds because customers know they'll love what comes in their wardrobe box.
More Than Just Meeting the Needs of Consumers
Personalization is more than just meeting customer expectations–it's all about exceeding them. Another Salesforce report on customer experience discovered 72% of consumers expect businesses to understand their needs and expectations.
The majority of respondents also added that this affects their brand loyalty. Research showed that consumers were twice as likely to pay attention to personalized offers as compared to general offers.
While retailers have the ability to promote and highlight its brands, direct to consumer marketing goes beyond by giving consumers exactly what they need.
Casper could've stopped at mattresses and bedding, but the brand understands there's more to a good night sleep. They're constantly working to provide more products to go above and beyond customer expectations.
2. Drive More Connection & Engagement Through Content
Much like personalization, great direct to consumer brands also connect and engage their audiences really well. These brands make better connections with their core customers through effective content strategies.
Brands need to bring a level of personality that allows shoppers to see them as personal and real. For example, Dollar Shave Club knows shopping for razors is not only expensive, but annoying.
The content pushed on social media and through various ad campaigns all try to build a better connection with the men who buy razors. In the example above, Dollar Shave Club connects with its consumer base by talking about one of the biggest questions people have about carry-on items–can you bring a razor?
The best way to build a relationship with a person is to talk with them and provide them information that actually helps. If it's not product information, another way to connect through content is by being transparent.
Everlane is known as a fully-transparent clothing brand. And to ensure its customers know where their products come from and how they effect the environment, Everlane uses social media to speak out on issues.
We believe that to make good decisions, you need to start with the facts. & no one is better at bringing the truth to light than the @nytimes. This Earth Month, we're working together to shed light on the most important story: climate change. https://t.co/d4fFqMqExk #NYTxEverlane pic.twitter.com/NWxFEqtEdj

— Everlane (@Everlane) April 10, 2019
Get Your Shoppers Involved
Again, content is a great way to connect to your customers and one way direct to consumer marketing works well is with user-generated content. Data from CrazyEgg shows that user-generated content gets viewed and watched 10 times more than brand content.
With so much trust in other shoppers' opinions, why wouldn't you create an easier path to showcase their content about you? Once again, transparency is key. However, showcasing your products through the eyes of your customers removes doubt in the purchasing decision.
Everlane does a great job of this as well by reposting images of real people using their products on social media. The point is to show your products working for everyday people.
With the help of PowerReviews' Visual and Social Suite, direct to consumer brands can easily collect, authenticate and display user-generated content to their website or product pages.
This gives shoppers the confidence to know your direct to consumer marketing is trustworthy and effective.
3. Make the Online Shopping Experience Better Than In Store
Innovation is key to building good customer relationships. It's your job as the brand to discover ways to make the customer experience even better and drive loyalty to get shoppers to come back.
But for direct to consumer marketing, it's about creating better online experiences than in store. The direct to consumer industry relies heavily on returning customers and continued subscriptions.
The challenge is winning over shoppers to return.
Data from a Temkin Group infographic found 87% of loyal customers will purchase again. Additionally, 79% will recommend your brand to friends or family.
Direct to consumer marketing allows you to build straightforward relationships, which leads to more loyalty. A good brands in the direct to consumer world not only keeps their shoppers loyal, they prevent them from needing an in-store experience.
One of the most popular avenues to win over customers and prevent the in store buy is through free shipping. But you could take it a step further, like Warby Parker, an reinvent the way you shop for a product.
The online eyewear brand solved a huge customer issue–people don't like to buy glasses without seeing how they look on their face. Instead, they offer to send five pairs of glasses to your home to try on and send back for free.
Have you tried our Virtual Try-On tool yet? It's so accurate, you'll think the frames are actually on your face 🤓 (PS: Our Virtual Try-On tool has been nominated for a #WebbyAward! Cast your vote here: https://t.co/c580LL2yvL) pic.twitter.com/j8dK4cNiqm

— Warby Parker (@WarbyParker) April 8, 2019
But Warby Parker took it even further by providing a virtual try-on tool to sample all frames in the convenience of your home. So even if buyers want to try on more than five frames, they can and at home.
Now the brand has even developed an app that will check your eye prescription right from you mobile phone. This is the pinnacle of being the one-stop shop to a consumer need.
4. Develop More Influencer Relationships
Influencer marketing gets you directly in touch with real customers. This is why so many brands work with influencers to promote products to new customers through authentic recommendations.
By working with micro-influencers, direct to consumer brands have a great way to scale this marketing efforts with the voice of everyday people. These influencers have a more tightly-focused audience, and cost much less than bigger influencers and celebrities.
Best of all, they bring big results.
A study from Tomoson found that brands make an average of $6.50 for every $1 they spend on influencer marketing. Plus, these efforts result in higher quality customers.
By starting a product sampling campaign, direct to consumer brands get the word out of their products much faster and more effectively. Consider running free 1-month or 3-month trials for subscriptions and product sampling strategies for non-subscription items.
This will drive more user-generated content to collect and display on your pages. And more than likely, the process will be much more affordable than any major influencer campaign.
5. Generate Better Review Content
Another way successful direct to consumer brands step up their game is through ratings and reviews content. This content is what helps you show your potential customers you're a trustworthy and beneficial brand to choose.
The Growing Power of Reviews report found nearly 63% of online shoppers between 18 and 29 years old search for websites that have reviews before buying. That means the content you generate in your reviews is what potential customers want to see in search.
With PowerReviews' industry-leading ratings and reviews collection tools, you build up your review content across the web to provide your shoppers with more content. And for direct to consumer brands, it's not easy collecting reviews for multiple products at once.
That's why we offer the Review Your Purchases feature, which allows your brand to collect multiple product reviews in one window. We make it easier on your customers to leave helpful reviews and collect more content for your brand.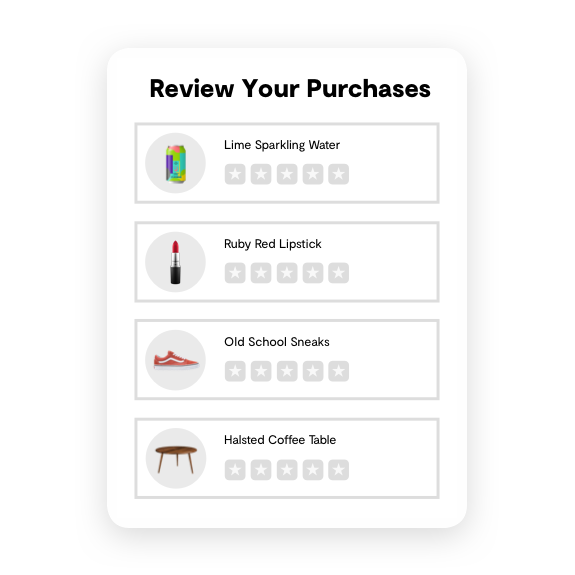 At the same time, this doesn't mean you should only work toward collecting positive reviews. Having a balance of positive and negative reviews actually does your brand more good.
In fact, the same PowerReviews report found 86% of shoppers under the age of 45 specifically look for negative reviews. Even when you're launching new products, reviews are essential.
6. Listen to Consumer Feedback
Your customers are talking to you: are you listening?
Whether on social media or in their review comments, your customers are giving you valuable insights into their needs (and whether or not your products are fulfilling those needs).
For example, check out these reviews on one makeup brand's website:
These reviews are from happy and loyal customers, but include valuable tidbits and ideas that the brand can use to improve their products. Make sure to use a good review analytics tool in order to listen effectively to your customers.
Picking out key adjectives, product flaws and things that customers love could give you great insights into your next product development campaign.
7. Create Email Marketing Campaigns to Build Loyalty
Direct to consumer marketing is all about building customer loyalty to your brand. You want customers to buy your product and avoid the in-store experience.
So, your messaging has to be spectacular in every area of your marketing campaign. If you've built up an email list, you've got to provide that audience with content that will connect and keep interested shoppers' attention.
By building loyalty means you have to reward your customers who truly connect to your brand. For example, Birchbox sends great email marketing content to their customer base to offer rewards when you get friends and family to join.
Another way to build loyalty in email marketing is by showing customers you understand their life and their needs. Direct to consumer marketing is all about addressing a problem with an item most people buy and making it easier.
Your content has to make this clear.
Hello Fresh makes its benefits easy to understand–no more boring meals. Additionally, they provide a ton of recipes to help its current and potential customers find meals they'll actually look forward to.
Target your customers with hyper-relevant offers that show you understand their needs. And try to offer your shoppers exclusive discounts that show how much you appreciate them.
8. Retarget Customers & Web Visitors via Social Media Ads
Retargeted ads are nothing new for direct to consumer marketing. This means taking behavioral information from a customer's web experience and showing the person targeted ads on social media and other places.
However, you need to make sure your retargeted ads are hyper-relevant to the individual user. Imperfect Produce will regularly run Instagram ads, like this organic post below, to showcase mission to reduce food waste and provide customers with an awesome solution.
By focusing on your true core product benefit, you cut out the unnecessary fluff of your product or service.
9. Capture the Emotion of the Purchase
People purchase for many different reasons. What are the emotions that play into the purchase for your customers?
For some, it may be the thought that they are purchasing products that are good for the environment. Some shoppers like to know part of the proceeds go toward a specific charity.
And for other shoppers out there, the simple excitement of a spontaneous purchase or package coming in the mail makes all the difference. Direct to consumer marketing is about capturing the joy of the product purchased and received.
There's even a hashtag used on Instagram to collect user-generated content called #barkboxday. The branded hashtag works to simply highlight customers' pets enjoying their new treats and toys.
By playing on the excitement of pet owners when unboxing their product, they've grown their direct to consumer brand to more than 600,000 monthly subscribers.
Just look at how happy these cute pups are!
10. Track & Optimize the Right Direct to Consumer KPIs
In order to make a success of your direct to consumer marketing, you'll need to stay up to date on important metrics for your brand.
For example, track metrics that help you see the entire customer journey. Where do your website visitors come from? How many people are clicking on your social media ads?
Then, find the KPIs that tell you the valuable of your customer base. Track repeat purchases, average order values, subscription counts and lifetime order value to see if you're successfully building loyalty in your customers.
These metrics will help you see if your direct to consumer marketing efforts are working, and will show you areas where you need to improve.
The Future for Successful Ecommerce Brands
Using these direct to consumer marketing tactics, customers see your brand as authentic and personable. Don't leave any room for doubt and always make sure tor prioritize the customer's overall experience with your service.
Even in a hyper-competitive landscape, your direct to consumer brand can still succeed by going above and beyond with your customers' needs.