Conversion rates for brands' and retailers' ecommerce shoppers are a solid measure of their efficacy. The power of reviews has long been established, with studies showing specifically how reviews work to influence the purchasing decision.
But how do reviews affect the bottom line more concretely for online shoppers — how do we know that having reviews on a retailer's site can increase the mighty conversion rate? We recently partnered again with Northwestern University's Spiegel Digital & Database Research Center, who worked with our client Hammacher Schlemmer — America's longest running catalog — on a year-long research study to find out.
Overall Impact of Online Reviews on Conversion Rates
The Northwestern research team wanted the study to track the conversion impact from the first point when an item had no reviews posted, throughout the purchasing journey where products began generating reviews. Important for the brand or retailer to take from this is that those first five reviews made by far the greatest impact on increasing conversion rate.
The chart below shows how the impact of each subsequent review after the initial five reviews is lessened. This may encourage you focus on overall product coverage vs number of reviews per product on your site, to ensure you're getting the best conversion.
Impact of Reviews on Conversion for Hammacher Schlemmer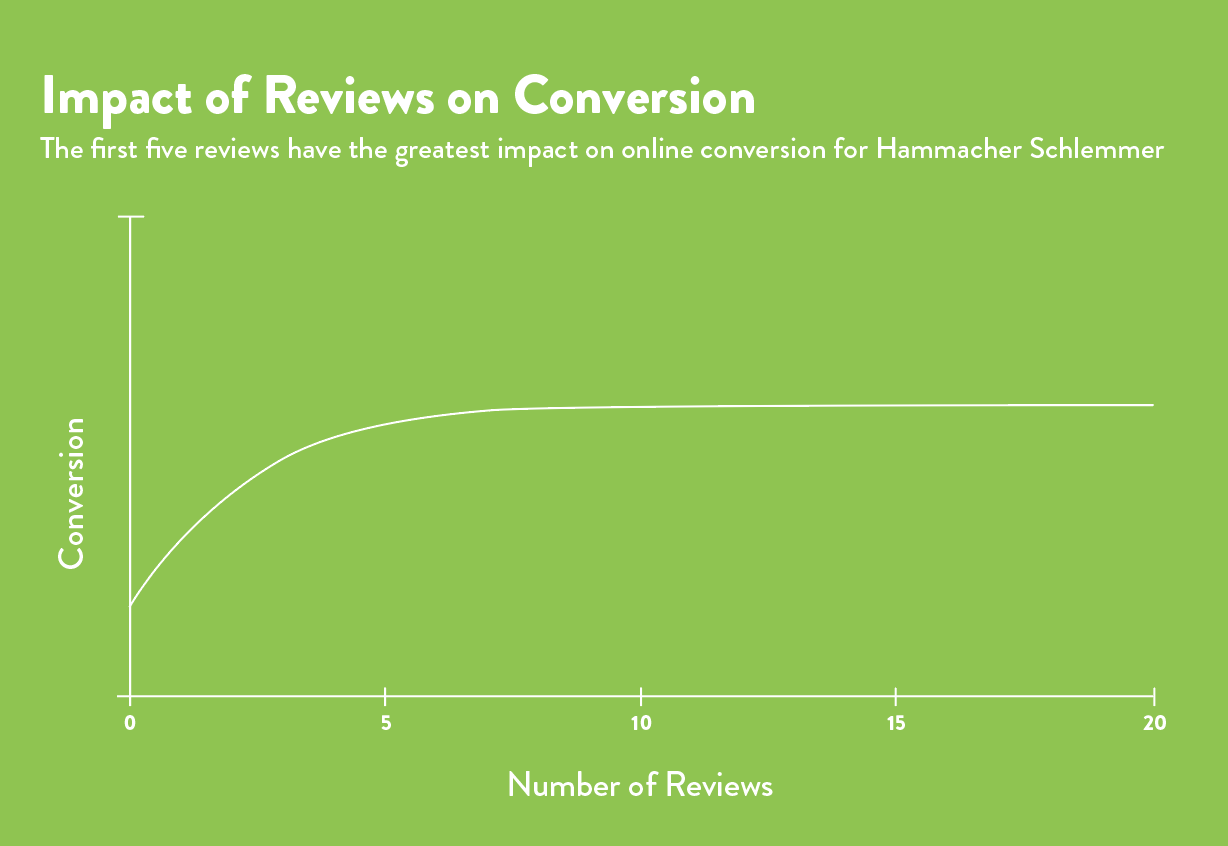 How Does Conversion Impact Differ Between Low and High Priced Items?
Like most retailers, our client Hammacher Schlemmer features items in a wide range of price points. For the study, items were categorized as high or low priced (based on a median item price), so the conversion rate between these two price types could be measured. Although lower priced items on their site have a higher conversion rate overall, once reviews for items start to appear, they have a greater conversion impact (380% increase) for the more expensive products (compared to a 190% conversion rate for less expensive).
This realization is not that surprising when risk is taken into account. There is more consideration for the purchase of a higher priced item, just as you would put more thought into purchasing special running shoes for a marathon than into $2 flip-flops for wearing around the house. Reading one (or more) excellent reviews attesting to the quality of those running shoes helps the consumer mitigate their risk.
Creating a Conversion Impact by Your Review Strategy
Let the results of the Hammacher Schlemmer study give your ecommerce a boost. See how closely Northwestern studied the reviews, and how the number of reviews — as they were added one by one online — affected conversion rates.
By reviewing Volume 3 of our Northwestern University study, which can be downloaded below, you can learn about the recommendations for your brand or retailer review strategy.