Is your Instagram marketing strategy actually resulting in sales?
If the answer is "no" and you're in the ecommerce space, it's time to do some soul-searching.
Because to say that business is booming on Instagram would be a massive understatement.
According to Instagram themselves, 60% of users rely on the platform to research and discover products. As a result, retailers and ecommerce brands alike are treating Instagram as a sort of extension of their existing storefronts.
Instagram's status as a hub for ecommerce sales doesn't show any signs of slowing down, either. Just look at the 'gram's new ad types and features such as checkout on Instagram as proof of that.
The good news? Given how much the platform has evolved and grown, now's a prime time to rethink your Instagram marketing strategy. For brands primarily interested in scaling their sales from social media, we've highlighted eleven actionable Instagram marketing tips below.
1. Stick to a Product-Focused Content Calendar
First thing's first: what the heck should you post?
As noted in our guide to social commerce, product-related posts are among the most popular types of content on Instagram.
Although brands obviously want to avoid spamming their followers, they also shouldn't be shy about showing off their products.
As cliche as it may sound, it's all about presentation. You're not going to get much traction from simply posting bland, lifeless product photos.
Instead, consider how you can highlight what you're selling in stylish settings. For example, IKEA showcases their products in a sort of real-world shopping window.
Beyond photos, videos should most definitely be part of your Instagram marketing strategy as well. Eye-catching and entertaining, anything from mini-commercials to loop-able, Boomerang-style videos are fair game.
Even massive brands such as Swatch publish playful, engaging video content to show off their products.
But the real key to killing it on Instagram is user-generated content. Sharing customer photos does double-duty of highlighting your followers and proving to prospects that people love your products.
Check out how Dr. Martens fills their content calendar with satisfied customers, including a call-to-action for followers to put their brand loyalty on display.
The takeaway here is that product-related posts should be central to your Instagram marketing strategy. Although they shouldn't necessarily be the only type of content you publish, brand shouldn't be afraid of self-promotion.
2. Make Your Creativity & Voice Count
The sort of "gold rush" mentality of scoring sales on Instagram means that brands are often facing crowded competition.
To break through the noise, you need to use creativity to your advantage. Brands that are capable of carving out some sort of niche or trademark are often the ones that score significant follower counts.
And the more followers you have, the more opportunities to sell. There's obviously no "right way to make an impression on your followers, but let's look at a few examples.
Color is a subtle (and sometimes not-so-subtle) way to grab someone's attention on Instagram. The example above is a great instance of a color-specific collage from Skullcandy.
The brand cycles through different color schemes periodically, making for an aesthetically pleasing feed that keeps followers guessing.
Another popular tactic for making an impression on Instagram is humor. Whether it's a meme or clever caption, people will generally appreciate funny content as a sort of "break" from traditional sales messages.
That said, it's more than possible to combine humor with product-based posts. You don't have to be comedian on your brand's Instagram, but some clever content will go a far way.
Check out how Milk Makeup promotes their products with witty captions.
If humor isn't your brand's forte, don't sweat it. Inspiration and motivation are also popular angles for brands to take on Instagram to connect with followers.
Fitbit regularly posts inspirational content to get you to care about what they care about.
Brands should strive to find their trademark and voice on the 'gram sooner rather than later. For the sake of doing just that, here's a quick sample of Instagram marketing tools to step up your creativity:
VSCO: the gold standard for Instagram editing, including a variety of filters and style options
In-Shot: perhaps the most popular video editor for Instagram, boasting features such as music and speed control
Canva: this free editor makes it a cinch to create image macros, memes and text-based posts tailor-made for social media
3. Couple Your Posts With the Right Hashtags
Hashtags and Instagram go hand in hand. That said, their function isn't totally understood by brands who try to spam them.
Hashtags not only enable new followers to discover your content but also encourage others to share posts related to your brand. For example, a brand-specific hashtag is a must-have for ecommerce brands.
Look at how Rifle Paper Company uses their own #riflepaperco hashtag.
By promoting their hashtag via content and their Instagram bio, fans have an avenue to share their lasted Rifle-related purchases and creations.
Branded hashtags aren't the be-all, end-all for brands, though. There are dozens of community and industry-specific hashtags out there which are relevant to your target audience.
In the case of Rifle, you can find fabric fans using tags such as #bagineer and #sewcialist which have thousands of posts tied to them.
Although these tags are admittedly niche, they highlight an extremely specific audience that's willing to engage with brands. Digging through these sorts of hashtags is a smart move for brands who want to narrow down who they should target and sell to.
Pro Tip: Instagram has over one billion users. Connecting with smaller communities is much more actionable than trying to dominate massive tags (#sewing or #haircare, for example).
Beyond looking at what tags your target audience is using, you can use free Instagram marketing tools such as All Hashtag to brainstorm even further.
There's some debate over how many hashtags is considered "ideal." Although Instagram limits posts to 30, using that many tags can certainly feel akin to keyword stuffing which isn't a good look for brands.
Generally speaking, you'll notice that major brands tend to take a "less is more" mentality. Experiment with tags and make a point to take on at least one beyond your branded tag if possible.
4. Curate & Promote User-Generated Content
This is a big one.
Again, customer photos are pure gold from a marketing perspective. Filling up your content calendar with user-generated content is one of the best ways to sell your product and brand at large to Instagram's audience.
Discovering these photos "by hand" is possible, albeit time-consuming. Digging through hashtag mentions and asking manually for permission for each and every piece of UGC isn't exactly efficient, especially if you have followers posting customer photos on the regular.
If you want to feature UGC as part of your Instagram marketing strategy in a way that's scalable, you'll need a curation tool like the PowerReviews Social Collection.
Our Social Collection abilities removes the legwork of spotting UGC in the wild and enables you to share it without asking for permission from individual accounts over and over again.
5. Sell With Instagram Stories
If there's a type of content that's dominating Instagram right now, it's Stories.
With over 500 million daily users, Stories are no longer just a novelty for ecommerce brands and retailers.
Stories offer brands a ton of creative freedom in terms of promoting products. Want to post an off-the-cuff selfie? A polished product photos with a specific call-to-action? Stories allow you to do both, all the while putting your brand front-and-center in your followers' Instagram feeds.
For example, ShopDisney encourages followers to swipe up via Stories "see more" feature which takes users directly to a product page.
Meanwhile, MeUndies has a dedicated Stories feed for showing off their user-generated content.
Bear in mind that there are tons of new features and stickers consistently being rolled out for Stories. It's smart to stay up to date with these new features so you can be fresh with your client base.
Check out how Hot Topic uses the open-ended question sticker to ask followers what they liked best from a recent fashion showcase.
On the other hand, look at how Stok uses a quiz sticker to pick their followers' brains on what they like about their products. This not only drives engagement, but shows you're all about community, conversation and learning about what your customers want.
Evolving your Instagram marketing strategy means keeping up with these features to come up with more compelling Stories in the future.
6. Create Instagram-Specific Landing Pages
Instagram only offers brands a single, precious bio link to funnel traffic directly from the platform to your website.
Don't let this real estate go to waste.
For example, don't just publish a general homepage link in your Instagram bio. Doing so limits your ability to assess the behavior or your social traffic or the ROI of your Instagram marketing strategy. Oh, and you'll want to make sure that your destination pages are optimized for Instagram's mostly mobile user base.
This is exactly why many brands promote Instagram-specific landing pages or, at the very least, mobile-optimized landing pages. The benefit here is two-fold: you create a seamless shopping experience for visitors and have an opportunity to measure how well your Instagram followers convert.
For example, Pura Vida's Instagram bio link promotes a page dedicated to new arrivals. When we click through, we're introduced to a landing page that's scrollable with easy-to-click buttons.
Here's another example from the Container Store, with large, clickable images and scroll-friendly interface.
If nothing else, make a point to track the clicks and conversions rated to your Instagram bio link. Notice that both brands above use Bitly links which can help you understand the behavior of your Instagram traffic in addition to Instagram's native analytics.
7. Promote Your Most Popular Products Via Instagram Ads
Once you've gotten a handle on your organic Instagram marketing strategy, paid ads shouldn't be too far behind.
Allowing you to target specific audiences and scale your promotions, Instagram's ad platform is worth exploring for ecommerce and retail brands in particular.
We highly recommend our Instagram sizes guide to learn the proper dimensions for all formats–organic or paid. 
One brand who is using Instagram Stories ads really well is Saint Chic. The company does a wonderful job showcasing the power of Stories ads and their ability to reel users in with great content.
Additionally, you can use your top-performing Instagram posts or products as the basis for an ad to ensure that it performs well. Here's an example from Milly which uses a product carousel, consisting of photos that actually came from their Instagram feed.
8. Foster Relationships With Influencers
A more authentic form of paid promotion, Instagram influencer marketing is surging in popularity for a reason.
Working with influencers allows brands to put a human face to their brand while also introducing themselves to totally new audiences. Check out even big brands like Skechers rely on influencer relationships to promote their products.
Brands are working with influencers of all shapes and sizes to engage with customers. To streamline and scale your ability to foster influencer relationships, consider how the PowerReviews Influencer and Sampling Suite could help.
We have a massive network of shoppers, advocates and influencers to help you launch a product sampling campaign that will not only boost product awareness across Instagram, but also generate more reviews or even visuals for your product pages.
We help uncover relevant influencers to shout-out your product without requiring extensive outreach on your part.
9. Rethink Your Posting Frequency
To maximize your potential sales from Instagram, it's important for brands to post on a regular basis.
This means posting at least daily rather than treating Instagram as a sort of secondary platform. Additionally, staying in the good graces of the Instagram algorithm means publishing when your audience is most engaged.
While engagement rates differ based on your business' location and industry, this data from Sprout Social can give you a general idea of the "ideal" times to publish content.
And yes, the process of posting daily might seem daunting. This is especially true if you're regularly trying to cover ground on Instagram Stories too.
Rather than scramble for new content, it's common practice to brands to stick to particular themes for the sake of organizing their content calendar. Here's a sample content calendar for inspiration:
Monday: Post a meme
Tuesday: Regram a customer photo
Wednesday: Promote your latest story
Thursday: Regram a customer photo
Friday: Post about your upcoming sale
Saturday: Ask followers how they're spending their weekend
Sunday: Post a product photo
This snapshot of ModCloth's feed highlights what a diverse content calendar looks like in action. This also serves as an example of the creative freedom you have in terms of your Instagram marketing strategy.
10. Promote Your Instagram Anywhere & Everywhere
Rather than hide your Instagram from potential customers, you should make your presence loud and clear.
For example, let's say you already have a sizable Facebook, Twitter or Pinterest following. Cross-posting your content and tailoring it for other networks is totally fair game. For example, here's an Instagram post from Urban Decay.
And here is the same exact post, edited ever-so-slightly for Facebook.
https://www.facebook.com/UrbanDecayCosmetics/photos/a.71295988199/10157332519283200/?type=3&theater
Your brand's website is also a place to promote your Instagram through social buttons, hashtags and customer look-books. ThinkGeek's Instagram showcase is a great example, and again highlights the importance of curating user-generated content.
If you have an engaged email list, sending out Instagram-specific newsletters or promos can help grow your following.
And if you're a brick-and-mortar business, don't neglect promoting your Instagram to customers in-person. These business cards from Vistaprint showcase are a great example of that.
11. Listen to Your Customers
This might seem glaringly obvious, but it's definitely worth mentioning.
As you grow your Instagram presence, you'll find more and more customers sounding off with questions and suggestions.
And hey, that's a good thing.
For example, Instagram can be used as a customer support channel to answer your followers' questions to help them decide on a particular purchase.
As a result, Instagram is yet another platform to gather feedback and understand what people want from your brand. These valuable insights can help improve your products and fine-tune your Instagram marketing strategy at large.
On the flip side, you can also use your customers' favorite features and product details to your advantage on Instagram. One of our features was built just for this reason.
Product Pulse gives brands and retailers a look at the common words, adjectives and sentiment at the product level by analyzing your review content.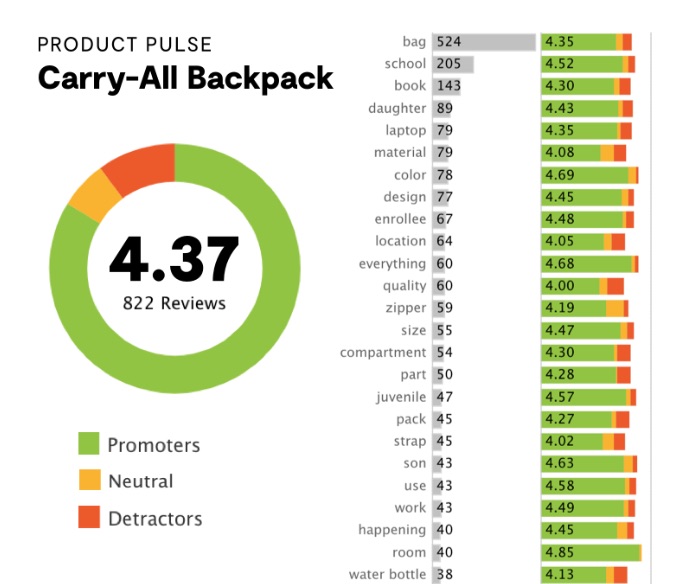 Does your new line of backpacks fit a laptop well even without a compartment for it? Does the strap tend to break after heavy use? Use these insights to improve products and take the common promoters to use for marketing material.
And with that, we wrap up our guide!
What Does Your Instagram Marketing Strategy Look Like?
Selling through Instagram is arguably easier than ever for brands.
Granted you understand the landscape of the platform.
Hopefully these Instagram marketing tips provided some insight and much-needed inspiration on what it takes to use Instagram to drive sales. Following these steps along with the help of tools like PowerReviews, you will build a strategy to acquire new customers and show love to the ones you already have.