From eye-catching advertisements to shopping cart checkouts, there's an unending amount of areas to improve or simplify in your ecommerce experience. That's why there are so many helpful (and sometimes unhelpful) ecommerce tools to choose.
Are you using the right ecommerce tools to reach your full selling potential? Have you done enough social media marketing to keep customers engaged? What do shoppers think of your overall customer experience?
Well, there's a tool for that.
You might wonder why there are so many ecommerce tools, but like most things, the demand is high. In 2018 alone, ecommerce sales in the U.S. skyrocketed to over $504 billion and by 2023, that number is forecasted to hit $735 billion.
If you want a piece of that pie, you need to tackle the new challenges ecommerce businesses face each day. With the right tools in place, processes are easier, take less manpower and put your company in better line for success.
But with so many tools, where should you start? That's why we're here to break down the 16 ecommerce tools you should know about in 2019 and how they could help your business:
Click the jump links to skip ahead
Reviews & Social Tools
We know we're making our own list, but we strongly believe user-generated content, like reviews and questions and answers, is essential to your ecommerce store. Review content gives shoppers confidence to make better purchasing decisions and limits the obstacles to get to check out.
In fact, our study on How to Beat Amazon found 43% of consumers get upset or irritated with poor product descriptions. The challenge is collecting, displaying and syndicating this content across your site and retailer partner sites.
That's where PowerReviews helps. Our tools not only enable brands and retailers to generate, collect and display authentic ratings and reviews, but also we help businesses draw valuable insights from the content with our Intelligence Suite.
Because 88% of consumers look for user-generated images while going through product pages, we also know the power of social media and ecommerce. Our Visual and Social Suite gives companies the ability to collect, display and get user approval to showcase user-generated content on product pages.
These real-life images give consumers even more confidence to make a purchasing decision. Providing visual cues lets shoppers see products in use from people just like themselves.
Cost: For more pricing info, request a demo today to see our affordable and easy-to-implement options!
Another essential part of getting the word out online is by using the social media channels that your audience is using. Whether you're looking to improve your Instagram influencer marketing strategies or listen in on consumer conversations, you need a tool to manage social beyond publishing.
With over 800,000 businesses using Buffer, it's one of the most trusted social media products, making it an ecommerce tool that you need in your toolbox.
Buffer allows you to monitor all of your social media accounts from one place. The tool also helps you engage with commenters from one unified inbox, schedule posts in advance and follow up with performance analytics to improve.
Cost: The free version is a good starting point, but like most ecommerce tools, you'll want to invest in the paid plans so you get features like social media analytics. The good news is the paid versions start at $15 per month.
While Canva isn't just for social media, this tool is essential for making your online marketing assets pop, social media banners fit properly and ad banners look their best. Canva is an easy to use design tool that most everyone on your marketing team can work with too!
Additionally, Canva is set up with adaptable templates for email, social, website, ads and more. You can easily add fun graphics, fonts, pictures or patterns to create memorable marketing images for your products.
Cost: Canva offers a free version of their tool as well as differently priced plans depending on team size.
To get a head start at building trust in your audience, it's vital to get recommendations by the people they trust–each other. And what better place to drive conversation between shoppers than social media?
Enter BuzzAgent–a leading community of everyday influencers that leverage their social powers to promote brands through product sampling campaigns.
In fact, Social Media Week stated 74% of shoppers are influenced by and look to social media when making a purchase decision. If you're looking to generate buzz about your business online, this tool does all the heavy lifting.
First, BzzAgent works with its trusted community of brand advocates that have a reach of more than 2 million followers. Brands then send product samples to these shoppers wanting and willing to write helpful and honest feedback.
👩🏻‍🔬 Smooth skin, weight loss, increased energy and improved sleep In just 30 days? BzzAgent @dsignbyamyb is in, and we can't wait to see her results. Are you embarking on your @SeroVital Advanced 30-day challenge? Post your #MySeroVital before pics today! pic.twitter.com/Dzjk641qQu

— BzzAgent (@BzzAgent) March 11, 2019
These everyday influencers share their content across their own social channels and write reviews where you need them most. It's a win-win for those wanting to try out new products and for your team to build review content and buzz around your product campaigns.
Cost: Contact the BzzAgent team to see what product sampling campaigns are offered!
Email Marketing Tools
Before you can start sending out emails to your target audience of potential customers, you'll need to build an email list.
OptiMonk describes itself as a more polite way to increase revenue, by giving you a human-centric marketing tool. You'll be able to create beautiful pop-ups that get the right message to the right people based on website behavior or even what's in their shopping cart.
It also connects with a number of other essential ecommerce tools, like BigCommerce and MailChimp.
Cost: Pricing starts at $29 per month.
Once you've got your list building tool set up, it's time to send some emails. MailChimp is one of the biggest names in email marketing for a reason: it's great!
Creating new email campaigns, promo offers and beautiful landing pages is easy, even for those of us with limited design skills. You can also segment those campaigns for different users and take advantage of email automation to save time.
Plus, you'll get all the valuable insights that their analytics provide. There's a reason so many people trust MailChimp with automation, creation and promotion.
Cost: MailChimp is free to use when you have under 2,000 subscribers and allows users to send out 12,000 emails per month. Of course, for bigger brands, MailChimp offers plenty of pricing plans to fit your specific needs.
Ecommerce Business Tools
You need to source products and materials to keep your ecommerce business running, but it's hard to know who you can trust. If you've struggled with product sourcing, this ecommerce tool will help relieve that stress.
Sourcify is a sourcing management platform that simplifies your process of finding and working with manufacturers. By matching your business to the right suppliers all around the world, Sourcify helps you save on resources that take up the most time. For ecommerce brands looking to improve their supply chain, this is an all-in-one tool to help create more transparency.
Cost: Depending on product volume, Sourcify offers different pricing plans.
If you're looking at a dropshipping style business, Oberlo is an essential tool. This platform allows you to find the perfect products to sell in your ecommerce store.
With an abundant marketplace of verified suppliers, it's very easy to select the right products for your audience, add them to your list and use analytics to back your purchasing decisions. Oberlo also helps you optimize product pages, track orders and sales and automate your pricing.
Cost: The starter plan is free, allowing you up to 50 orders per month. Paid plans start at $29.90 per month.
This multifaceted ecommerce tool gives you the ability to control your inventory and orders from one place. The goal of EcomDash is to help you run your business more efficiently.
They offer features like dropshipping automation, multi-channel fulfillment, inventory management, order management and much more. Its software helps businesses sell products more effectively and owns features specifically built for retailers looking to improve multi-channel inventory.
Cost: Pricing starts at $60 per month.
Ecommerce Website Tools
Your website is everything to potential customers wanting to learn more about you. Do you know if your CTAs are in the right spot? Do shoppers stop scrolling through pages at similar spots? What links get the fewest and most clicks across your essential product pages?
Luckily, the heat mapping tool, HotJar, is perfect for answering these questions. HotJar allows brands and retailers to quickly and easily discover user intentions through click, scroll, move, share and download heatmaps.
This is the perfect tool for those wanting to further investigate conversion funnels so it's easy to see where site visitors lose interest. Heatmapping is a must for any brand or retailer relying on organic traffic and selling products on their site.
Cost: Basic plans to collect a max of 2,000 pageviews a day is a free option, but for business purposes, plans start at $29 a month for up to 10,000 pageviews a day.
As the name implies, this tool is perfect for enterprise ecommerce stores or those who are looking to scale quickly. BigCommerce is perfect for those who are serious about scaling their brand with powerful ecommerce tools.
Additionally, BigCommerce offers a drag-and-drop style website builder, an integrated dashboard for multiple sales channels, strong website security, multiple shipping and fulfillment options and a full suite of conversion optimization tools. The tool is also ideal for brands wanting to significantly improve their mobile usability and sales.
Cost: Pricing starts at $29.95 per month. They also offer enterprise plans for large ecommerce stores and B2B businesses.
Brands and retailers wanting to sell right away need an all-in-one solution to cover the point of sale, product page creation and own the analytics to track how you're performing. This is just a sample-size scenario for businesses who need Shopify.
This powerful ecommerce tool lets you manage everything from product insights to sales and shipping. For those who want to get serious about selling and how to improve, Shopify is a must-have tool in 2019.
Shopify also lets you connect in-store and online for the perfect omnichannel marketing experience. Their plug-and-play hardware, secure payment options, multi-channel selling and inventory management set up ecommerce companies with everything needed to make, track and measure a sale.
Get started by using Shopify's features to build your brand and store so you can sell anywhere.
Cost: Get started with a free trial and basic Shopify plans start at $29 a month.
Collecting and analyzing massive amounts of data is essential to understanding what's going on with your ecommerce website and how you can improve it.
While there are many website analytics tools, Woopra is one of the few that is specifically designed for ecommerce websites.
They take your data across products, marketing, sales and support, and go through the hard work of analyzing that data for you. You'll be able to quickly understand the customer journey, retention stats, cart abandonment rates and more.
Beyond that, Woopra takes the mask off these numbers with People Profiles, showing you who the individual users are and what they're doing on and off your website. This tool also integrates with many other ecommerce tools and allows you to set up action triggers that automate business processes.
Cost: Most small to medium ecommerce businesses can use a free version, while pro plans start at $999 a month.
Want to make your ecommerce website really stand out while also capturing more sales? What about getting your shoppers to find products they're actually looking for?
Unbxd is an interactive tool that helps customers discover products while on your website, thus improving UX and giving users a better way to find the products they want, especially on mobile devices.
They offer ecommerce website features such as shop search, product recommendations and personalized browsing experiences based on customer behavior.
Cost: Request a demo to get more pricing information for your specific site.
Customer Service Tools
Now that you've enchanted your target audience and built up your customer base, it's time to keep them happy.
GrooveHQ is a useful customer support product that offers a shared inbox for your customer support team, easy knowledge base setup and reporting that gives you the skinny on your company's interactions with customers.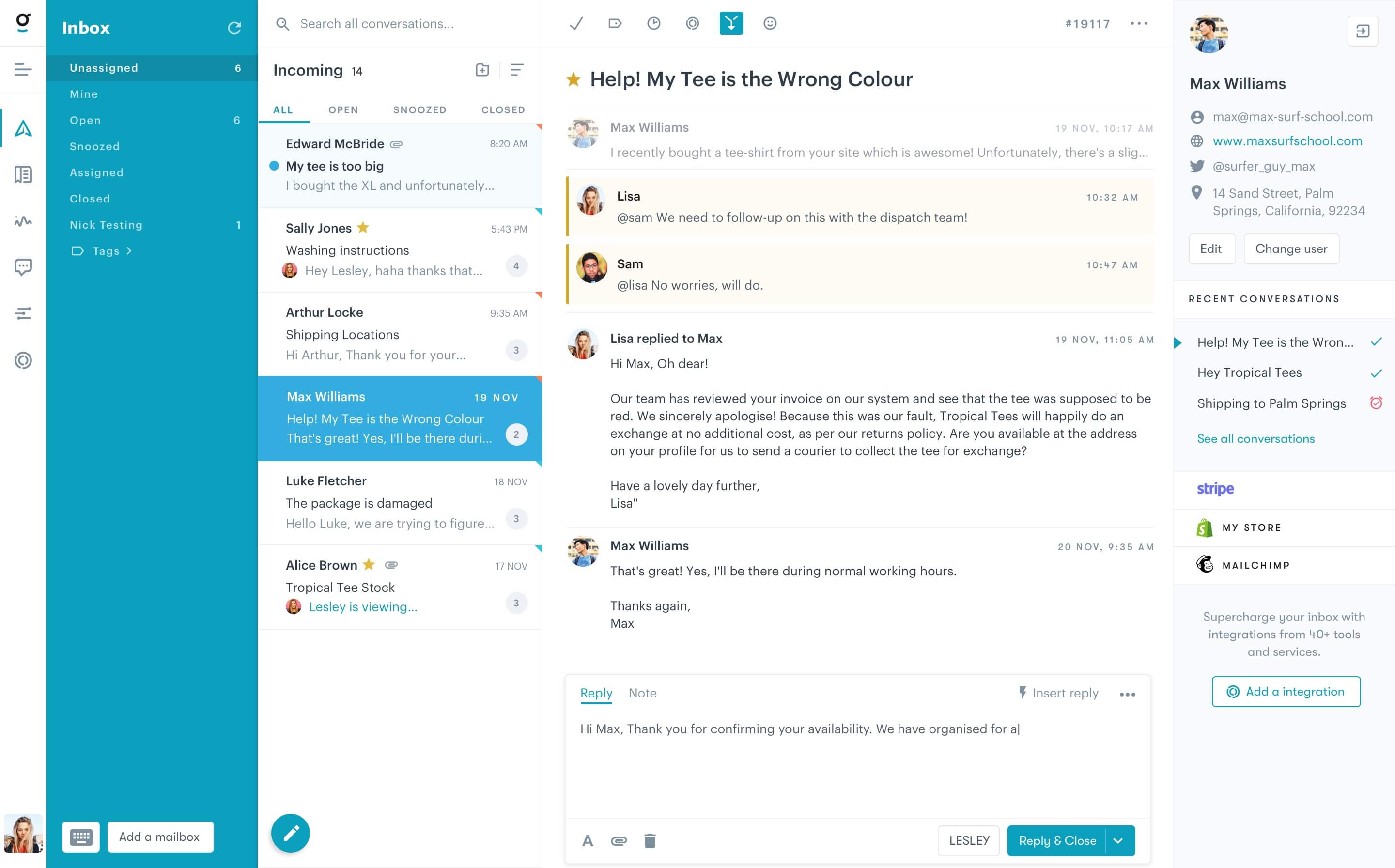 This tool is ideal for brands and retailers wanting to scale customer service to provide shoppers with better experiences and easier ways to communicate with your team. As companies look to improve customer satisfaction, tools like GrooveHQ are important to consider.
Cost: Pricing starts at $12 per month.
Did you know that 44% of online shoppers feel that getting their questions answered by a live person during their purchase is one of the most important features an ecommerce website can offer?
That's why LiveChat is on our list of essential ecommerce tools. We even use this tool on our own site to increase our demand generation efforts. LiveChat helps us answer potential customer questions on the spot and gives us another avenue to open communication with those interested in our services.
This easy-to-use tool allows you to run a live chat on your website with minimal coding. Thus, you can answer customer questions and offer support through the buying process whether your customers are on a desktop or a mobile device.
Cost: LiveChat is free for a 30-day log retention and plans for more users and longer data retention starts at $9.99 a month.
Which Ecommerce Tools Do You Need to Get Started?
Ecommerce is a changing world, but you'll be prepared for whatever may come when you're fully equipped with these ecommerce tools. When you're looking to build trust in your audience and grow brand awareness, rely on tools that you know solve a specific need.
Develop better email marketing strategies and keep your business processes and website in order.
Have any tools you recommend? Reach out on Twitter to give us your favorite ecommerce tools you're using in 2019!