A solid relationship is always a two-way street, which is why so many businesses struggle to get a high level of customer satisfaction.
Consumers will buy your products if you give them good reasons. But on one hand, you have to be honest, forthcoming and problem solvers. This lets your customer base know you care and are willing to do your part in the relationship.
Research from Indiana University found across multiple industries, companies tend to overestimate their own customer satisfaction levels. This disconnect in perceptions leads to less satisfied customers and ultimately, fewer shoppers coming back and a huge dent in your sales.
So, how do you prevent all that from happening? The first step is to determine where your customer satisfaction currently stands. Measure satisfaction levels in your business to identify areas that need work and then you creates ways to wow your customers.
First, let's figure out what truly makes up customer satisfaction and how it works with your business:
What Is Customer Satisfaction?
Customer satisfaction is a metric used to track and gauge the degree of gratification or comfort with a brand's products and services. Simply put, it finds out how happy your customers are and do they trust your business enough to buy again.
It's equally important to measure customer satisfaction to fully comprehend how it affects your business. You can't improve what you can't measure. If you want to make your customers happy, you need to know how satisfied they are right now. From that point, figure out how to take things to the next level.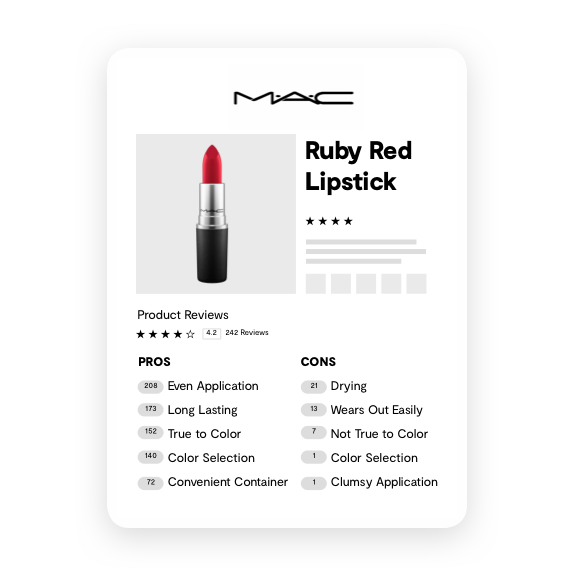 Knowing your customer satisfaction numbers also provides valuable insights for research and development. That's why so many businesses rely on a ratings and reviews platform to uncover opportunities to develop new or enhance products and services.
So how do you measure customer satisfaction? There are various ways that all depend on your industry, offerings and customers. But if you're curious to learn more–we've got you.
Here are five secrets to success to improve customer satisfaction:
1. Let Customer Surveys Tell You Everything You Already Know
As one of the most straightforward ways to gather insights, a survey can give you quantitative and qualitative data about your customers. Likely, you already have some idea of what your customers think.
However, it's smart to test your hypothesis on a regular basis to know exactly what your customers are thinking about your brand or product. The nature of your survey will depend on the metric or score that you're trying to find.
For customer satisfaction, the most common scores businesses rely on are the Net Promoter Score (NPS), Customer Satisfaction Score (CSAT) and Customer Effort Score (CES).
Let's quickly break down each of these scores in detail:
Net Promoter Score (NPS)
The Net Promoter Score measures the likelihood of a customer recommending your company to others. Finding a user's NPS starts with a simple survey question: How likely are you to recommend the company to a friend or colleague?
In fact, Omniconvert explained that users then answer the question with a scale from 1 to 10, which classifies your customer fulfillment according to their ratings. Those who give you a score of 9 or 10 are called Promoters, while a score of 7 or 8 get named Passives and 6 to 0 are Detractors.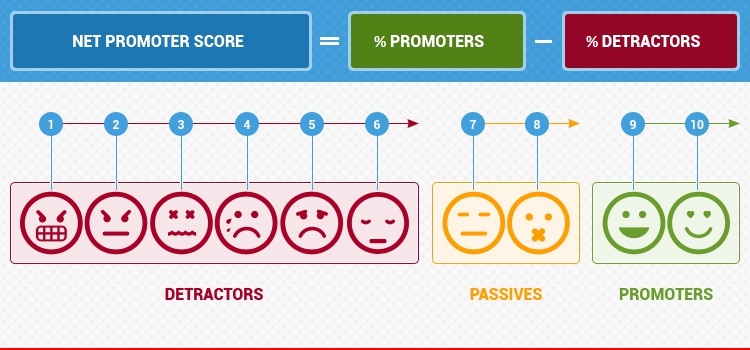 To calculate your overall Net Promoter Score, subtract the percentage of Detractors from the percentage of Promoters. So, if 60% of your customers are Promoters and 5% are Detractors, then your NPS is 55.
Your Net Promoter Score by itself won't tell you a whole lot because NPS benchmarks vary from one industry to the next. An NPS of 10 for example, might be great if you're in the Cable and Satellite TV industry, but that same score is considered low if you're a specialty retail store.
So, look into NPS benchmarks to figure out how you measure up compared to companies in your field. To give you a better idea, here are average NPS industry benchmarks from 2018, as provided by NICE-Satmetrix, the co-developer of Net Promoter:
Pro Tip: Ask Additional NPS Questions
While your NPS gives you insights into customer satisfaction (especially when compared with others in your industry), your score alone doesn't provide any information around the specific areas of your business that need improvement. If you want to get even more value out your NPS, consider asking additional survey questions based on the user's initial answer.
For example, if someone gives a score of 8 and below, then you can follow-up with asking what changes would have persuaded a higher rating. But for users rating 9 or 10, your follow-up question could ask what specifically they recommend or what do they think you did really well.
More often than not, you're going to get honest customer feedback about your buyer journey. This could ultimately help you fix things like product returns, low ratings and abandoned carts.
Customer Satisfaction Score (CSAT)
While NPS measures customer satisfaction at a more general level, the Customer Satisfaction Score measures satisfaction with a specific product, service or brand interaction. To that end, CSAT surveys are typically initiated after an event such as after a purchase or support team interaction. The key is to do it while the experience is still fresh in your customers' minds.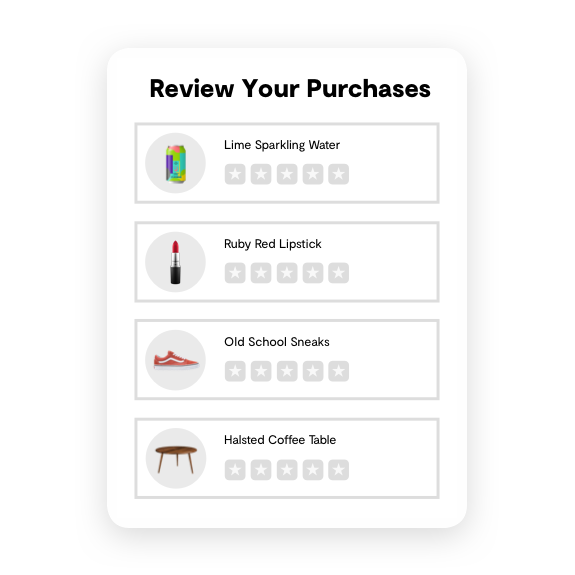 This is why post purchase emails are essential to gathering valuable customer feedback. PowerReviews Review Collection solutions sends your customers emails asking about their experiences with the products they just purchased. This allows shoppers to give their recent and fresh feedback for every product they purchased.
As you likely know, getting customers to fill out reviews for multiple products is asking a lot and time consuming. Instead, PowerReviews collects all the recent purchases and makes it absolutely simple to enter reviews while staying on the same review page.
Customers are more likely to fill out multiple reviews when they see what's needed to move on–unlike some review collections that continually jump to new pages and feel endless.
Measuring CSAT Success
Just like with NPS, your customers provide answers by choosing a score from a scale. You can use a 10-point scale (similar to NPS), though a 5-point scale also works for CSAT. Many companies ask customers to rate their satisfaction using a scale from "Very Unsatisfied" to "Very Satisfied".
One example of a company doing this is Morton's Steakhouse, which sends their guests a survey a few days after their visit.
Once you've gathered enough responses, take note of the scores your received and keep an eye out for trends or patterns. CSAT helps determine which products, experiences or support reps yield the highest satisfaction scores. This allows you to further identify trends in various customer segments.
Customer Effort Score (CES)
Customer Effort Score is a metric measuring satisfaction based on the amount of effort required to use a product or service. According to the Harvard Business Review, CES is the best predictor of whether or not a customer will continue doing business with a company.
You measure CES by asking questions about how much effort was needed to handle the request. Customers use a scale from 1 (Very Low Effort) to 5 (Very High Effort) to provide feedback. The same HBR article found 94% of customers reporting a "low effort" score were likelier to purchase again, while 88% admitted they'd spend more money to get that service.
However, 81% of respondents said if the process was "high effort," they were likelier to tell friends and family of their negative experience, significantly harming any word-of-mouth marketing strategies in place. With that in mind, once you have enough completed CES surveys, you should have a better idea about:
Would continue buying from you
Would say negative things about your company
NPS vs. CSAT vs. CES
What's the best metric for measuring customer satisfaction? That depends on your objectives as well as your overall views about customer satisfaction. If you're looking for a more holistic view of how satisfied your customers are, then NPS would be the best option.
But if you want to gain insights about specific components of your business (e.g., a particular product or service) then CSAT would likely do the trick.
On the other hand, if ease of use is an important metric in your business or if you agree with HBR in that customer effort is a good predictor of future behavior, then consider implementing CES surveys. Each metric has its sets of pros and cons, so do your research, figure out what works best for your specific business and start measuring.
Tools for Conducting Customer Surveys
Whichever metric you choose, you can easily create and send your customers surveys. There are plenty of tools on the market to conduct surveys, and here are a few we recommend:
2. Use Social Media to Truly Listen to Interactions & Conversations About You
Sometimes the best feedback is things customers voluntarily provide. And this is where social media listening is incredibly helpful. Consumers constantly share both positive and negative opinions about brands on social media–it's up to you to decipher what's valuable.
In fact, the Sprout Social Q3 2017 Index found 46% of consumers have called out a brand on social media for unfair treatment, a poor experience or multiple reoccurring issues. These experiences are crucial to track whether they're coming at your brand directly or in-directly.
Invest in a Social Media Listening Tool
Effectively social media listening requires more than manually reading comments and brand mentions. For it to be effective, you need tools that can not only track important mentions, but also provide information that you can quantify and take action on–even if they don't specifically tag your brand.
Here are some tools that can do everything from monitoring brand mentions and analyzing sentiment to tracking your competitors and generating social media reports:
There are a lot of social media listening tools out there, but we recommend doing your research before signing up for a solution. At the end of the day, the success of your efforts will hinge not on the tools that you're using, but how you use them. Here's a few tips to note when using these tools:
Find Your Most Valuable Keywords to Monitor
For starters, most social media monitoring tools let you add specific keywords to monitor. One of the first things you should do is identify all the significant keywords to track on social. These may include:
Your company name
CEO and key executive names
Specific product or feature names
Keywords associated with competitors
Weaknesses about your products or services
Common customer pain points in your industry
The next tip is to act quickly. Social media monitoring will do nothing for customer satisfaction unless you act on the information. A 2018 survey from Clutch found the majority of consumers expect brands to respond to social media comments within 24 hours.
Actually, data shoed 83% expected companies to respond within less than a day, while 38% want brands to connect within an hour. Speed is clearly important to social media users, so if you want to keep their satisfaction levels high, make it a point to respond to their comments ASAP.
Pro tip: Most tools can alert you when important comments come through. Use this feature to your advantage.
3. Thoroughly Mine Your Product Ratings & Reviews
If you collect and display product ratings and reviews (which you totally should), all of this content is a goldmine for customer satisfaction insights. But more likely than not, you know this important, but manually digging through reviews content can be extremely time consuming and create unknowing biases toward responses in the process.
So what do you do if you get dozens or even tens of thousands of product reviews to dig through? It starts to feel like a literal hunt for gold.
That's why PowerReviews launched its newest feature in its Intelligent Suite: Product Pulse. We listened to our customer feedback and the comments were clear–it's too time-consuming to dig through review content.
Product Pulse does the heavy lifting by pulling most-used adjectives, trends customers see with the product and sentiment analysis with your items–all at the product level. Powered by our intuitive platform, Product Pulse provides real product insights in an easy-to-digest visual display.
The Intelligence Suite engine has already processed over 40 million consumer product reviews to discover 2 million unique topics with 5 million unique opinions to give your brand actionable product insights.
Want to see more? Sign up today and request a demo of Product Pulse!
4. Always Have the Answers
The quickest ways to frustrate your customers (and diminish satisfaction) is to not have answers to their questions. It's important to arm your staff with the resources they need to provide prompt and adequate answers to your customers.
In addition to offering ample training, identify the most common question customers have and make sure your team is ready with the answers. At the same time, it helps to give shoppers the ability to find answers for themselves.
According to Forrester, 53% will leave a site if they cannot find an answer to a product question before purchase. So, what's a brand to do?
Let your shoppers submit their own questions. This can be helpful on your product pages because it allows shoppers to bring up item-specific concerns.
Consider Skechers, which has an "Ask a Question" button on its product pages. When a customer clicks on it, the site launches a form through a Questions and Answers platform.
Their question is then routed to the most qualified sources based on flexible business rules set by Skechers. Shoppers get an answer within 3 hours or less through a follow-up email with a link to the product page so they can complete their purchase.
With the feature, Skechers saw a 32% increase in conversion for products and a 51% bump in their conversion rate from answer notification emails. This goes to show that shoppers who get answers to their questions are more likely to complete their purchase.
Be Prompt
In addition to having the right answers, being quick with delivering them can also help customer satisfaction. Research from Forrester found 73% of customers believe their own time is the most valuable asset for great customer service.
One of the best ways to show customers that you value their time is to provide answers and services quickly. Here are a few suggestions on how to do that:
Set Up an Auto-Response
Even if can't answer right away, let people know their message was received. Automate this by setting up a customer service autoresponder that notifies users you got their message. Your auto-response also tells people how they can get in touch if they need to follow up.
For instance, when you submit a customer support ticket on Postmates, you immediately receive a "Request received" message. In some cases, an auto-response can even streamline the support process for you.
Check out this example from ThirdLove. After submitting a Returns/Exchange request, you'll get an automatic message with instructions on what to do next and a link to download a return label.
Route Questions to the Right Department
Set up your help center in a way that queries are filtered and routed to the right people. If you're using a form or live chat to collect customer questions and requests, you can do this with a drop-down menu that lets users specify the nature of their request.
Apparel retailer Showpo does just that with its chat form that has a drop-down menu on which customers can select their "Enquiry Type."
5. Show & Tell Customers You Want to Improve Satisfaction
Once you've done something to address customer feedback, follow-up so it's known you've addressed the concern. This is as simple as sending an email or a social media message saying you've fixed the issue.
If you're addressing a larger concern that many customers have brought up, notify users through a product email update or blog post addressing common concerns.
For the longest time, Grammarly users asked for integration with Google Docs. So when it finally happened, Grammarly published a blog post announcing the update and that the customer feedback is the main reason they updated the software.
Deliver on Your Word
It's all about focusing on delivering first and delighting second.
This may seem like weird advice when we constantly hear businesses should "surprise and delight" their customers. However, a separate Harvard Business Review study found consumers' tendency to punish bad service is greater than their impulse to reward delightful interactions.
We have updated info for SoundSport Free owners about the reports of an audio/video delay issue with some video sources. More details can be found here: https://t.co/xs1rJ6NNaT

— Bose Service (@BoseService) November 16, 2017
Bose shows you why it's important to evaluate your existing products, services and experiences customers face when interacting with your brand. They identified areas of dissatisfaction and then took action.
Another company that did this well is Fandango, a ticketing company that lets people book tickets online and through mobile devices. The company gathered feedback from its users and discovered a big problem.
When using Fandango's seat selection feature, customers had having trouble knowing what side of the theater was faced toward the screen. It's a simple hurdle that could cause a lot of unhappy front- and back-row customers.
That feedback was routed to Fandango's product team, which addressed the issue straight away. If you want to improve customer satisfaction, take action on your word and show consumers you listen and fix problems.
Improving Customer Satisfaction Is a Long-Term Process
Boosting satisfaction requires performing two key things very well: measurement and addressing the issues causing the most problems. This isn't a one-and-done method.
Brands have to keep up and prioritize customer satisfaction as well as product sentiment because moods change over time. So no matter how satisfied your shoppers are today, make it a point to keep measuring and keep improving!