It's 2019 and surprisingly, one of the hottest customer communication methods is a technology that's existed since 1992–text messaging. Brands have increasingly found value in SMS marketing due to the fact it earns higher open rates, engagement and click-through rates.
Do we have your attention?
This isn't the first time SMS marketing strategies have gained popularity. Like we mentioned, text capabilities have been around for decades and a lot of companies found success with SMS marketing campaigns in the early 2000s.
But technology, cost and the simplicity of SMS has made a strong comeback for marketers, especially in an age where the average U.S. consumer checks their phone 52 times a day. In this post, we'll shed light on the ins and outs of SMS marketing in today's digital environment and how brands effectively use text messages to increase customer engagement.
Let's get started.
What Is SMS Marketing?
SMS marketing (short message service) is a type of customer communication method that requires permission from a business to communicate with a customer via text message to promote, sell, update or confirm specific messages. This technique needs the customer to opt-in, much like an email marketing subscription, so brands and retailers have the ability to send product updates, discounts and important information directly to the consumers' device.
And for SMS marketing in 2019, this typically means a smartphone. In fact, Pew Research found 81% of U.S. adults now own a smartphone, while 96% at least own a cell phone. So it's probably safe to say, if you're struggling to connect with your customers, SMS gives you the chance to communicate through a device nearly every consumer owns.
Before diving into SMS marketing tips and tricks, it's worth taking a look at why text messaging works and how it performs compared to other channels:
SMS Gets More Engagement
Customer engagement is a tough cookie to crack these days. Between short attention spans and the growing number of distractions all around, it's difficult to get your messages in front of your target audience.
SMS, when used correctly, cuts through the noise and capture people's attention in ways that traditional channels (e.g., email, PPC) can't. According to Gartner, SMS open rates run as high as 98% compared to email's 20% mark. What's more is the data cited by Digital Marketing Magazine indicating 75% of consumers actually prefer to receive promotions via text message.
These numbers tell us that consumers are a lot more receptive toward messages they receive via text.
SMS Is Widely Used
Smartphone users love SMS messaging. The same study from Pew Research also found 97% of smartphone owners send text messages–making SMS the most used feature on smartphones. Not only is it the most popular feature, but survey respondents said it's the most-frequently used feature with the majority stating they've sent or received a text in the last hour.
SMS is clearly an invaluable communication method for consumers, so it makes sense to use (or at least test) it in your marketing efforts.
SMS Messaging Promotes Immediate Communication
Text messaging also paves the way for faster communication and even back-and-forth conversations with your customers. That same Gartner research cited earlier discovered SMS had a response rate of 45%, compared to email, which had a 6% response rate. Additionally, data from the GSM Association shows that on average, it takes 90 seconds for users to respond to text messages.
You Can Efficiently Track Results
With the right platform, you can measure the performance of your SMS campaigns and improve your results. Most SMS marketing solutions have reporting analytics features, which allow you to track open rates, CTRs, offer and redemption.
You don't have to go into SMS marketing blind. As long as you choose the right messaging platform, you can closely track how your initiatives are doing and measure the ROI.
Mobile Messaging Is Poised for (Even More) Growth
Mobile messaging has gained a lot of steam, and marketers are taking notice. According to Salesforce's 2018 State of Marketing Report, 53% are currently using mobile messaging to market to prospects or customers and 31% are planning to use mobile messaging within the next 12 months.
Marketers are evidently going to be using mobile messaging (which includes text) even more. And while this helps validate the value of SMS marketing, it also means that the landscape is going to be more crowded.
As such, if you're looking to jump into text messaging as a marketing tool, you'll want to do it sooner rather than later. This is why PowerReviews is striving to help businesses with their SMS marketing strategy by providing a simple tool to engage your shoppers post-purchase to generate more ratings and reviews.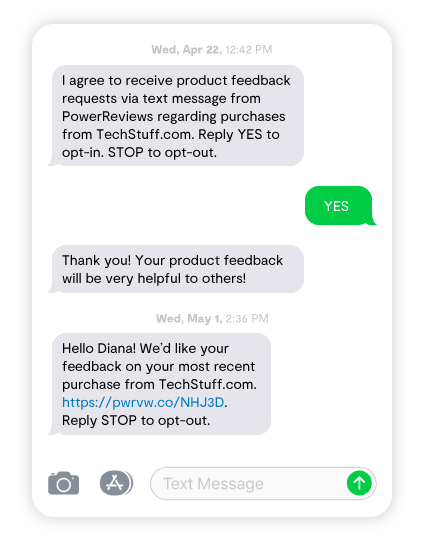 By asking your customers for feedback via SMS, brands have seen up to 4 times higher review collection rate. Our goal is to help businesses collect the most content possible to help you drive more sales, all while making it easier for the consumer to interact.
Want to see our SMS review collection feature in action? Contact our team today and learn how to get more authentic reviews! 
SMS Marketing Examples & Tips: How to Get It Right
Now that you know the value of text messaging and the impact it has on customer engagement, it's time to look at how you can make SMS work for you. Here are a handful of SMS marketing examples and tips to inspire your efforts:
Run Timely SMS Marketing Campaigns
Text messages may get a ton of engagement, but that doesn't mean you can send customers whenever you want. Timing makes or breaks your campaigns, so make sure shoppers receive your messages at the most optimal times.
In addition to sending at the right time of the day, consider the time of the year your subscribers are reading your messages and when you're running your campaigns. Mark special holidays on your calendar and launch SMS marketing campaigns that align with these events.
Check out this message from Kape Republik. The business obviously pays attention to yearly holidays and makes it a point to engage its customers through text. On Mother's Day, Kape Republik sent moms a special BOGO (buy one get one) offer.
Additionally, the company got in touch once more on Memorial Day with a 10% coupon. The company's timing is effective because it's not over the top and the the discount makes it worth it for customers to continue receiving messages.
Take a leaf out of Kape Republik's playbook and run seasonal and holiday SMS campaigns to boost your engagement.
Make Them Visual
Don't let the term "text" stop you from sending visually stimulating messages via SMS. Aside from giving your messages more personality, visual elements help you stand out and be more memorable. A study on the effects of emoticons found that the presence of emojis in messages can boost the cognition and memory scores of recipients.
An excellent example of a brand putting emojis to good use is Sumo. In the appointment reminder below, the Sumo team included a couple of relevant emojis to spruce up the text.
But why stop at emojis?
If you're sending a sweet offer and really want to get people's attention, consider throwing images into the mix. The jewelry retailer AUrate does this with their SMS strategy.
To promote its gold jewelry, AUrate sent a photo of someone wearing the brand's shiny pieces to give its consumers a visual example of the product–directly to their device.
Adding a bit of visual flair to your messages doesn't take a lot of effort. Strive to include images and emojis in your texts whenever it's appropriate to do so. Your audience will remember you for it!
Instill a Sense of Urgency
Because people tend to open text messages immediately, SMS is an ideal platform for sending time-sensitive messages. If you have an offer that's expiring soon or want people to respond quickly, SMS is your best communication channel.
The haircare brand Function of Beauty clearly understands this. The website recently ran a 20% off promotion, and 3 hours before it ended, Function of Beauty sent its subscribers a heads up via text. This helped urge shoppers to take advantage of the offer while it lasted.
Make Taking Action Quick & Easy
Remember that users reading messages on their smartphones don't have time to type up long responses or jump through several hoops. So, if you require recipients to take action—such as visiting your website—you should make the process as easy as possible.
We already saw this in action in the messages above. Both AUrate and Function of Beauty made it easy to get to their promotions by sending a clickable link via text. In some cases, the action you want people to take is to confirm an appointment or opt-in. In such situations, make sure the task takes as little effort as possible.
When someone makes a service appointment at Sephora and can't make it, they simply need to reply with "1" and the retailer will cancel their appointment.
Go Beyond Self-Promotion
SMS is obviously a great channel for sending promotional messages. But you'd do your audience and your brand a favor by using text messaging to actually help your customers–not just spam them.
In other words, rather than leveraging SMS solely to promote your business, you should also use the medium to provide a service or send information that your audience would truly find useful. In doing so, your recipients value your messages more and are encouraged to keep opening and reading your texts.
Macrobox Meals, for example, sends delivery notifications via text when people's meals have been delivered. Macrobox knows that its customers would want to be notified when their food reaches their doorstep, so the company makes it a point to give them a heads up.
Strive to do something similar to your efforts. Ask yourself: How can you use text to add value to the customer experience? What types of non-promotional messages would people want to receive from you? The answers to these questions will help you craft a better SMS strategy.
Ask for Feedback
As we mentioned earlier, SMS is an effective tool for gathering customer feedback. Since people are more likely to read and respond to text messages, you have a greater chance of collecting responses. And for brands wanting to improve their ratings and reviews collection, PowerReviews' SMS Collection is a must.
You don't want to make the process complicated. PowerReviews helps brands send quick message asking your customers to give feedback on a product so you increase the chances of getting more information about your products–and ultimately more reviews.
SMS also helps brands and retailers improve customer satisfaction by getting appropriate feedback on a specific experience. CVS Pharmacy sends its visitors a text asking them to fill out a short survey.
Use SMS Marketing to Re-Engage Inactive Customers
Do you have customers who haven't visited your store or website in a while? Send them a quick text to get back on their radar.
Bakers & Baristas, a cafe in Cerritos, CA, does exactly that. Have a look at the store's text below. In addition to a quick "we miss you" message, the cafe sent a promo to sweeten the deal. This helps compel customers to come back.
Use Branded Links
Branded links look at lot cleaner and trustworthy compared to generic ones, and they promote trust and credibility. In fact, data from Rebrandly found branded links see up to 39% more click-throughs compared to non-branded URLs. It's worth it to use them in your messages as much as possible.
Check out these messages from Appsumo. For Black Friday and Cyber Monday 2018, Appsumo used branded links in its text messages to direct people to its website.
Is SMS Marketing Part of Your Customer Engagement Toolkit Yet?
SMS clearly offers a lot of value in the customer engagement department. Use text messaging to drive sales, gather feedback, provide services and communicate with your audience.
This technique has the potential to outperform traditional channels in open, click-through and response rates. So see how SMS could fit into your customer engagement strategy and start looking for right messaging platform.
Once you've collected enough data, use those insights to get to know your audience better, and then refine your efforts.
Good luck and happy texting!