UGC in the Holiday Season
And UGC will be even as important as ever this Holiday season.
Our Holiday Survey conclusively backs this up. Nearly all (99%) of consumers will do at least a portion of their holiday shopping digitally this year (50% will do most of their holiday shopping online, and 13% will do all of it online). 41% of consumers plan to do more holiday shopping online this year than last (when we asked the same question last year, the comparative figure was 37%  – for context, that was right at the heart of the pandemic pre-vaccine availability).
Bottom line: how you show up online will be crucial to how your Holiday 2021 shakes out.
In this environment, ratings and reviews will be critical to converting browsers to buyers. In fact, our Holiday survey highlights how it's second only to price in enabling consumers to determine whether to follow through with a purchase – with 71% saying they have an impact when considering gifts for others and 68% when buying Holiday items for themselves.
You need to be ready for this. In order to maximize your share of dollars for the Holiday and thereafter, UGC will be absolutely critical.
But – although this is undoubtedly the case – the Holidays also represent a fantastic opportunity to enhance your existing program. Make sure you're doing the right things now, and reap the rewards in 2022 and beyond.
Get ready for Holiday 2021
As someone who works with leading brands and retailers on their UGC strategies day-in day-out (and has worked through my fair share of holiday seasons), I wanted to share some helpful recommendations for optimizing your ratings and reviews program at this time of year. 
Given you are likely to have a bunch of competing priorities for the Holiday season, we have tried to focus purely on four things you can realistically achieve for this blog.
Consider this a checklist to make sure you are doing the right things. If not, consider making some tweets. Because a few small adjustments can really go a long way.
Optimize your current review collection methods
The Holidays are a big sales season. Like we very clearly outline above, ratings and reviews are proven to drive conversions. So to be successful this Holiday season, you'll need a healthy volume of ratings and reviews on your site.
At the time of writing, we are a matter of weeks out so realistically – given time constraints combined with the likely resources you have available – you probably aren't equipped to significantly alter your own review volumes.
Although – as an aside – there are ways you can do this should you want to: in fact, PowerReviews product sampling and "Receipt. Review. Collect." programs are designed to enable brands and retailers to generate significant review volumes in short time periods.
Here, though, we wanted to focus on things you can and should do given the likely resources at your disposal.
And this means looking on the Holidays as an awesome opportunity to generate a ton of new review content to convert more shoppers down the line.
But you need to make sure you are best placed to capitalize: now is a good time to audit your review collection processes and consider if there are any improvements you can make.
Take a look at your review form. 
Is there some type of feedback you are looking to collect for specific products that you aren't currently gathering? 
The holidays are the perfect time to edit your review form as your review volume will be increasing. Instead of just comments and an overall star rating, ask additional questions specific to your product or consumer to get more detailed feedback.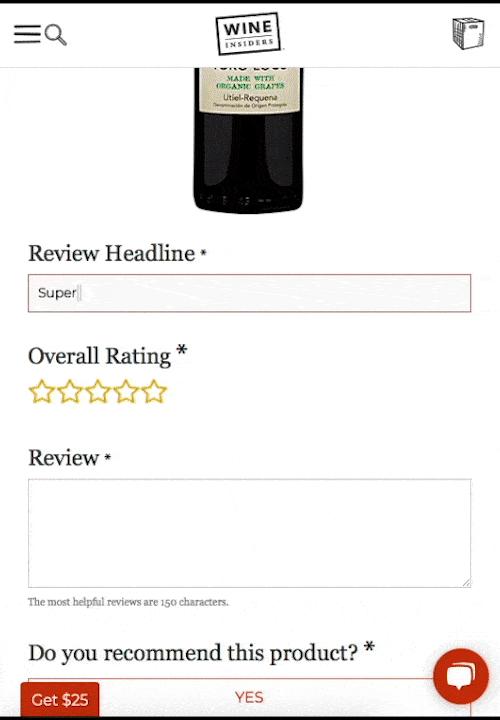 Would you like your reviews to be longer? 
Based on our own review interaction data (taken from an analysis of 1.5m+ product pages across 1,200+ brand and retail sites), longer reviews are more likely to receive "helpful" ratings by consumers. Consumers who engage with "helpful" reviews convert at higher rates than those who don't. 
Power Pro Tip:
Generate longer reviews by adding a character counter beneath the review form. This kind of instant feedback encourages customers to provide more detailed content through gamification.
Consider Your Post-Purchase Email Strategy
Your shoppers' email inbox is the perfect place to gather new reviews. If you aren't currently, follow up with customers soon after they receive their purchases, and ask them to write a review.
People can get busy during the holidays. Make your shoppers' lives easier by inviting them to submit their review right from the email itself. An In-Mail Submission enables customers to provide review content directly within review invitation emails.
What about customers who purchase multiple gifts from you?
You can make their lives easier, too. Invite them to write multiple, shorter reviews all at the same time. 
Enable customers to write multiple product reviews on one form through the post-purchase email. These reviews collect the star rating, headline, review comments, and an image or video for multiple products from a single email.
Brands I've personally worked with have experienced exceptional results when implementing this capability — in fact, one generated a 54% increase in reviews displaying on site in the first 30 days of it being in use. Quite a shot in the arm for the entire program.
Now that your customers are becoming more comfortable with the idea of shopping in store, consider maximizing your post-purchase email by providing an in-store order feed. We recently surveyed shoppers on their feelings about shopping in store post a vaccination being available. 
Over 70% of consumers have no concerns about returning to in-store shopping, a 2.4x increase from our September 2020 holiday data.
Share Reviews Across Channels
To stand out during the Holiday season, you don't just need to provide compelling validation on your own site. You also need to show up digitally wherever you are selling or people are talking about your products. So consider how you can grow your review coverage across other websites and even social media.
Do you sell your products on Amazon? 
Like it or not, it's the first stop for most shoppers (93% of consumers anticipate doing at least some Holiday shopping there). How are you currently funnelling your customers to write reviews? At PowerReviews, our Share Button makes it very easy for your customers to syndicate their review content to your product page on Amazon and other major retailers. On average, 31% of customers click this button. That's a lot of reviews!
Syndicate your review content 
Review syndication is by now a well-established practice for most brands – and for good reason. If you sell on Target.com – for example – you are competing against a ton of other brands. So you need to stand out.
How do you convince folks to click through from a main listings page – where consumers have the entire Target.com product inventory to choose from – to your product? Reviews are a highly compelling mechanism for driving this action. We offer the full breakdown on syndication here.
Get More Out of Your Holiday Reviews
You want to be prepared once the reviews start flowing in. Bring your customer service team up to speed on review moderation best practices. Identify key opportunities to feature top-rated products on your site banners and gift guides during the holidays.
Finally, amplify the impact of your existing reviews content through email marketing and social channels.
Let's start with moderation best practices.
Always respond to reviews, positive or negative.
This simple task builds credibility with shoppers by demonstrating you care about what they have to say. Check with your Customer Success Manager to ensure that merchant response notifications are enabled.
Remember, negative reviews help to build credibility. Our research shows 96% of consumers specifically seek this content out and 46% are suspicious of products with average 5-star ratings.
Customers know things can happen. Something broke during shipping, or the wrong item was sent. What's more important to them is how you deal with it. Your review response is the place to share that information. Showing customers that you are there to support them and make it right is just as powerful as the experience with the product.
By responding to your reviews, you have the opportunity to turn a negative experience into a positive. Then, you can ask customers to update their review.
Power Pro Tip:
Short on time? If you're expecting a rushed holiday season, it's time to triage. Address negative reviews first. With PowerReviews, you can set up alerts so you're only notified about the reviews that warrant a response. Apply "Low Rated Review," as a trigger, and you'll receive an alert for any review that matches.
Leverage Your Review Content
Let's concentrate on all the positive reviews you collect during the holidays. Think about how you can put them to good use.
You can include star ratings and review quotes in your Instagram posts and stories throughout the holidays.
You can also highlight reviews in your marketing emails as customer testimonials to build credibility.
With your review collection methods all in order, it's time to drum up more reviews — and all the sales that come along with them. Engage your followers on social media and leverage your email list to collect more reviews. Here are a few creative ideas to get you started. 
Generate Reviews Through Social Media
Have you considered asking for reviews on Facebook, Instagram or Twitter? 
You may already have a community of engaged followers across your social channels, so why not ask these customers to write reviews for specific products?
Taking that a step further, do you have customers who are already raving about your products on social? Lucky you!
Rather than simply responding with a generic "Thank you, we're glad you loved it," why don't you point the happy customer directly to your website to write a review? They are clearly impressed with your product, so this is the perfect opportunity to gather a positive review!
Power Pro Tip
Focus on products with low review volume, or new holiday packaging. Highlighting these products on social and asking your customers to write a review is a quick way to boost content prior to the holidays.
Ask for Reviews Through Other Emails
Do you plan to highlight specific holiday products within your newsletters or other marketing communications? 
If so, we recommend embedding your review form (or link) within these communications. This is especially impactful for non-eCommerce sites that are unable to send a post-purchase email. You could also highlight a product with low review volume to increase coverage prior to the holiday.
We have had many clients find success with creating and promoting a giveaway contest to collect reviews. In this example, Bumble and Bumble offered ten $100 gift cards for customers who wrote a review within a specific time period. All the customer had to do was sign into their account and submit a review on any product that they've used. 
Once the contest was over, Bumble & Bumble was able to use our reporting to identify customers who had written a review within that time period, and they picked the winner randomly with that data. This specific campaign increased review collection by 1400% month over month.
Analyze Your Review Content to Iterate and Improve
Now that you've made it through the holidays, I'm sure you are ready for a much needed vacation but don't head to a tropical beach just yet. We've got some essential things for you to consider when planning for the New Year.
Your holiday reviews are chock full of useful customer feedback and sentiment. You want to gather this content so you can share it with your internal teams for product enhancements, marketing, and more. 
At a minimum, we recommend thinking about the following:
These can supply your product managers and marketing team with sound bites to leverage in campaigns.
These can alert customer service and product development teams about common issues and complaints.
The Impact of Your Review Displays
Understand how visitors interacted with UGC on your site and how that impacted conversion. This should then be factored into any site redesign planning.
Take notice of the main trends you see in your reviews. Which products get the best (or the worst) reviews? Are any products having a harder time generating reviews, despite having similar sales numbers to other, more-reviewed products? If you made changes to a product during the holiday season, did it affect the reviews positively or negatively? 
Don't forget your competition. Take time to review your competitors' reviews, too. For similar products, how do your reviews match up against the competition? Is there anything you can learn from how your competitors respond to their reviews? 
When you've got thousands, hundreds — or heck, even dozens — of products, it can be tough to answer these questions without turning it into a full-time job. As you head into the next year, it might be time to consider looking into reviews analytics software. These platforms use AI to analyze reviews at scale, surface the most impactful trends, deliver competitive insights, and spin up smart, actionable reports for you to use when crafting your UGC success plan for 2021.
If you're a PowerReviews customer, talk to your Customer Success Manager about your goals and objectives for UGC in 2021. We can be a partner throughout this process.
We hope that these UGC best practices were informative and will help you to prepare for the holidays. Start by reviewing your review collection methods now. Then work on generating reviews before and throughout the holiday sales season. Finally, gather actionable insights you can apply to next year's goals. 
Good luck this holiday season. We wish you happy holidays, and lots of positive reviews!