Generate Longer 5-Star Reviews by Maximizing the Value of our new Capability
We get asked a lot by customers: how can we generate longer reviews?
At the core of our company ethos is the concept of authenticity. While our competitors are releasing functionality that enables brands to selectively delete review content they don't like, we are focused on building capabilities that drive high quality and real content that performs.
So we recently rolled out a feature focused specifically on this goal: the Review Meter.
What is the Review Meter?
An interactive character count positioned under the review commentary section that increases as your customer writes his or her review. Here's an example of it in action:
As you can see, a little green bar grows as the customer types. Some explainer text beneath gently reminds customers to keep writing until they reach the minimum number of characters (this length can be customized to your own specification). Nothing stops the customer from submitting at that shorter length. But this provides some encouragement to provide just a little more detail – particularly if that customer has just been primed by you to talk about best uses or where they are using a product and why.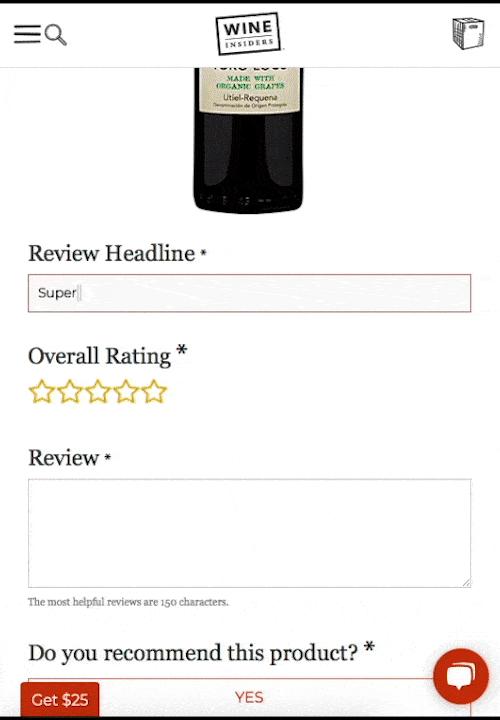 Once the customer hits that minimum character count, the meter lights up excitedly. The text also converts over to a "keep it up" message, further reinforcing positive behavior.
It's very simple. But that small visual can go a long way in helping to encourage customers to talk just a little more about their experiences and/or why they like something.
Here's what McKenna Rowe from DRINKS (featured in the image above) thinks.
"I love it! It's elegant AND I don't have to bug my engineers to enable it on my side! Since we implemented this, we're already seeing much better quality reviews."
McKenna Rowe
Product Design Lead at DRINKS
Taste in wine creates a lot of debate and opinion. Our sample reviewer (in the above example) is explaining how he or she usually likes red blends, and is typically not particularly enamoured with dry wine. Others reading then gain a sense for this reviewer's preferences, taste, palate etc. If this matches theirs (or even if it doesn't but they know enough to understand), the impact is huge.
Review content is all about relating and connecting with the reader. The more likely your content is to do this, the more likely it is to have the desired result.
If you're a PowerReviews customer, this is super easy to enable. Your Customer Success Manager would be delighted to talk you through it so please reach out if you're interested.
Longer reviews have deeper impact
To understand the value of the Review Meter, you need to understand the very real and tangible impact of review length.
As we mentioned at the outset, we get asked this a lot by brands and retailers. How much of a focus should it be? What does the data say in terms of the value and impact of longer review content over shorter review content? And, most of all, what can they do to inspire their customers to leave more detailed reviews?
Read on to find out a detailed data-backed take on why curating longer consumer review content is worth your while.
Based on our own PowerReviews review interaction data (taken from analysis of 1.5m+ product pages across 1,200+ brand and retail sites), we can see the distribution of "helpful" ratings according to review length. By this we mean the average number of "helpful" votes review content receives from shoppers. This acts as a good barometer of review consumption and engagement.
As you can see, helpfulness increases in line with review length growth. The trend is very clear. The longer the review, the more helpful it is. 500+ character reviews – in particular – evidently offer huge value to shoppers.
This makes complete sense: consumers like to consume longer review content because it includes more detail that is more likely to be relevant to them. Take a coat for example. A longer review might go into the fit, the material, the zipper, the color, the warmth, reasons for buying and so on and so on.
But what does a "helpful" review mean in terms of outcome? Quite a lot, it turns out.
Review Sort Conversion Lift
Conversion rate of visitors that engaged with each feature
Of all consumers sorting review content, those that sort by helpful rating convert at the highest rate. This actually amounts to 192% above overall average conversion rates. So longer reviews are more helpful and helpful reviews have a huge impact on whether that shopper then goes on to buy that item or not.
Something else to consider about longer reviews: they provide more information about the product for you to analyze (assuming you have the NLP and text analytics to do so…check out our UGC Analytics platform if you don't). What do consumers like about your product? What do they hate? How can you improve it ? Now project this across your entire catalog. That's a whole lot of high-value and actionable information for you to leverage to drive positive and meaningful change.
Why do longer reviews generate better results?
It's not surprising that longer reviews generate better outcomes. As detailed above, the more information contained within a customer review, the more likely it is to clearly articulate a specific use case and answer whatever questions a customer has. It's also more likely to enhance buyer confidence.
But this value has numerous levels. Think about it: unstructured product feedback is feedback in your customers' own words. No BS. In this social media-influenced world where everyone is used to interacting and providing their opinions online in public forums, reviews offer an excellent outlet to provide feedback and recommendations for others.
Their verbatim nature mean you also really get to understand how an experience or product made a customer feel. The longer the review, the more customer emotion-type information you get. Reviews that highlight how products made a shopper feel something positive resonate and connect with customers. As a result, they can be extremely influential in the buying decision.
Longer reviews also make the product more likely to be found. Review content – like any other copy on a web page – contributes to SEO rankings, thereby increasing web traffic. More eyes on a product – particularly when the search is likely to be highly intent driven – means more sales.
The More Negative the Sentiment, the Longer the Review
We wanted to see if consumer sentiment affected review length. The answer is it does and significantly so.
To do this, we looked at the accompanying rating provided by the reviewer alongside their review content. It's clear that – even over an extended period – five and four star rated reviews (out of five) are consistently shorter than one and two star reviews.
To spell this out, negative reviews are longer than positive reviews. Intuitively, this makes sense. You've probably seen a lot of review comments out there that say simply "amazing, love my new spatula", "this coat is wonderful" or similar.
Negative reviews – on the other hand – tend to have more detailed explanations of why the reviewer didn't like the product (e.g. "Bought the oven online, was a seamless purchase and delivery process. I wouldn't buy it again though because it doesn't heat to the temperature it claims at any given time, I've verified with my own oven thermometer. When I baked a cake, it didn't rise. It ruined my son's birthday. Such a shame as this brand is usually super reliable and this is the third oven I bought for them. I'm shocked and disappointed" etc.).
Negative reviews actually average more than 200 characters pretty consistently. But positive reviews track more closely to what we described across all our data. Why? Most reviews are positive. In fact, the bottom chart here highlights that a whopping 85% of product reviews are 4 and 5 star rated.
This is an especially important point for you to consider. What this means:
Longer reviews are more impactful and drive better sales numbers

Positive reviews tend to be shorter in length but greater in volume

You need longer positive reviews.
You need to focus on generating longer 5-star reviews
We offer extensive guidance on how to generate more review content. Check out this guide or this blog for more on that.
Here we want to explain: how do you convert willing reviewers into longer, helpful review content?
By this point, you have commitment from your customer to provide a review. They are already invested in the process. But you have to remember that your customers are most likely not experienced reviewers. They are also unlikely to be expert copywriters and they are probably not product experts. They may not even know where to start when it comes to providing information other shoppers look for.
Start with the Review Meter
Our Review Meter was designed with this goal specifically in mind. This is a very easy way to start increasing the length of your review content and generating more impactful reviews.
It's very basic human psychology. Most people want to please others and/or achieve an objective. The way the review meter is set up, it hits on both these points. The bar only turns green when the review submission hits a desired length.
Given your customers have already voluntarily chosen to provide content, they already have a certain amount of commitment to the process. So play on this to ensure the review they submit is as valuable to you as possible.
Also Encourage Quality with an Optimized Review Submission Form
To fully optimize the power of the Review Meter, we recommend also optimizing your review submission form.
Why? Your customers may not know exactly what to write or what other customers find valuable. However, they know why they bought the product and their specific use case. So you need to harness their enthusiasm to share their experience to tease this information out of them.
Our customer Room & Board offers a great example of how you can guide your customers through the review submission process (full form here for reference).
They do this by planting a number of ideas in the reviewer's head before they get to the form.
Specifically, they ask customers to select from a series of multiple choice checkboxes. The review form is related to a furniture item, so Room & Board ask reviewers to choose their uses (options: accent, informal, lounging, small spaces, formal, large spaces, primary seating, watching tv) where they live (options: apartment, loft, townhouse, house) and so on.
This very smartly plants ideas in the reviewer's head that they will take into their comment submission later in the form. So "love this couch" becomes "I needed a modern looking couch that is super comfortable (mainly for watching TV) to be the centerpiece in my one-bedroom New York City apartment. I love how flexible it is…it's equally great for lounging and as a formal piece for hosting" etc.
The form in effect guides customers to provide helpful review content. The review meter in effect acts as "the convertor", providing the motivation to create the sort of content that leads to sales. 
And of course the checklist approach also has other highly complementary purposes. Namely, they help populate Pro/Con lists, use cases and demographic information at the top of the review display that summarize information contained in the reviews. These can then be displayed in an easily scannable and filterable way for shoppers, providing super impactful social proof from "people like me".
If you don't care about review length, you should. Longer reviews are proven to drive more sales.
Why? During the research phase of their purchase cycle, consumers want authentic validation. If they get this, they are far more likely to follow through and convert to a buyer.
The more relatable the review content, the more likely it is to resonate and have an impact. And the longer the content, the more likely it is to contain this relatable information.
The good news is that there are some simple actions you can take to encourage these longer reviews.
First and foremost, you should leverage our new Review Meter. We built this capability exactly because brands and retailers are struggling to generate quality and in-depth review content. This plays on the concept of gamification to encourage reviewers to continue by way of a live character content.
But you should also think about adjusting your review form to fully optimize the power of the Review Meter. By guiding customers through the submission process by asking for relatable tags before they reach the commentary box, you plant ideas in the reviewer's head that they take with them to when they start to write in their own words.
This – in tandem with the Review Meter – will help you generate the more in-depth and detailed review content that drives sales.
If you're a PowerReviews customer, you can activate the Review Meter today. If you're not, request a demo to see it in action.