When customers come to your site, you want them to have all the information available about a product and remove any roadblocks to purchase. We know that both reviews and Q&A give customers valuable content, and allow them to get answers to their questions. PowerReviews builds on your customers' need for easy access to answers — and minimizes the number of customers who might ask duplicate questions — by adding search functionality to our Q&A solution.
Search Makes it Easy to Find Answers
Now when customers land on your product pages, they can consume your Q&A content, and quickly find the information they're looking for. Customers can search to see if anyone else had the same question before asking a new one, which amplifies the positive impact of having the living and breathing FAQ section on your site.
Over time popular products may have dozens of questions displayed, which can get a bit unwieldy for customers to read through. When a customer types into the search box, their search words will be highlighted in both the question content and the answer content, putting the information front and center. If a customer is getting close to being ready to buy and comes to your site to ask a question but instead finds the answer they're looking for, this can help close the gap to conversion.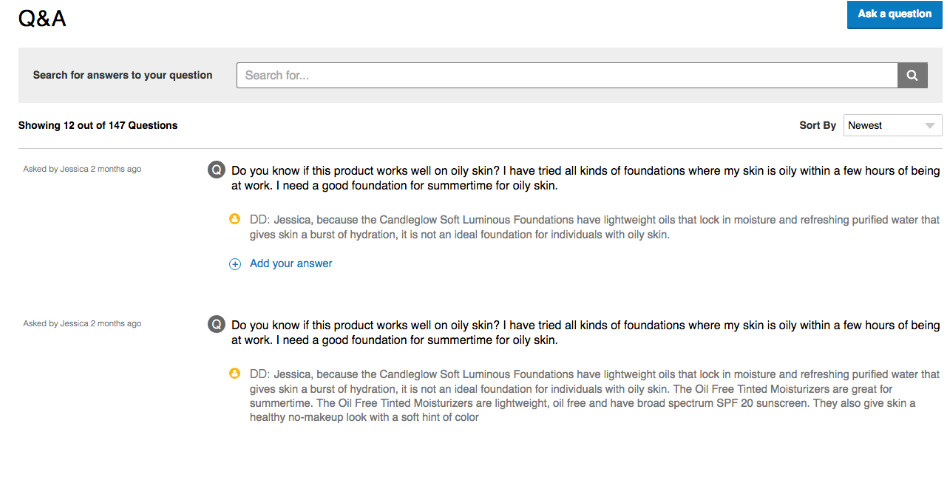 Take the Legwork Off Your Teams
PowerReviews wants to help you win internally, and we know how valuable your time is. Adding search capability to our Q&A solution reduces the number of duplicate questions your Subject Matter Experts — your team members who are answering questions for customers — might need to answer. If customers are able to find what they're looking for with a quick search, they won't need to ask for additional information, meaning your internal teams can focus on other things.
Improving on an Already Valuable Solution
Search is a new feature added to an already robust product that significantly improves conversion rate. In fact, for Room & Board, the conversion rate from consumers who either read reviews or Q&A was 95% higher than the site average in 2015.
Remember, it's always an option to leverage customers who have previously purchased the product to answer questions for potential buyers with our 'Ask a Product Owner' feature. And it works: nearly 20% of customers who receive an email asking them to help another shopper respond with an answer, and our customers have seen up to a 50% conversion rate when a consumer receives an email answering their question.
With the Q&A update, we've also given badges a facelift and rearranged the way the questions and answers display, making the customer experience more engaging. Plus, the new display is ADA/WCAG compliant.
More Information
Search functionality for Q&A is available now. If you're a brand or retailer that's interested in increasing conversion rates, boosting sales, and making it easy for your customers to find answers to purchase blocking questions, contact us so that we can help you reach your goals.