Five Ways to Get Your User-Generated Content in Front of More Shoppers in More Places During Holiday 2017
It may only be October 3, but brands and retailers have already been busy for months developing strategies to reach and convert more shoppers this holiday season. And for good reason. Holiday 2017 is expected to be a busy time — eMarketer predicts that total retail will grow 2% this holiday season over holiday 2016, with 15.8% growth in ecommerce.
Shoppers are increasingly turning to user-generated content — such as ratings and reviews, photos and videos — to help them make informed purchase decisions. This is especially true during the holidays when consumers are shopping for products they're not quite as familiar with. For example, there's Aunt Callie — a recent college grad searching for a gift for her two year old nephew. Or Kevin, a 35 year old suburban dad picking out perfume for his grandmother. Collecting and displaying UGC allows you to break through the noise to reach your shoppers — and it helps your shoppers make better purchase decisions for everyone on their holiday shopping list.
By now, you've likely been collecting UGC for awhile. The next step is to display this content in unique ways to capture the attention of shoppers in more places. Read on to learn five ways to get your user-generated content in front of more shoppers this holiday season.
1. Start with Your Own Website
We've found that 45% of shoppers will turn to a search engine if there aren't reviews (or aren't enough reviews) for a product on a brand or retailer site. An additional 25% will head to Amazon to find this content. And here's the thing — if a shopper has to look elsewhere to find this content, they probably won't come back to your site.
So after you've started generating reviews, make sure you're prominently displaying this content on your product pages. Avoid hiding your review content behind tabs or requiring your visitors to aimlessly click around to find what they're looking for. And since a growing number of consumers are browsing and buying via a mobile device (eMarketer predicts that mobile-based purchases will increase by more than 50% this year), make sure your review content is easy to find and read, regardless of the device a shopper is using to consume it.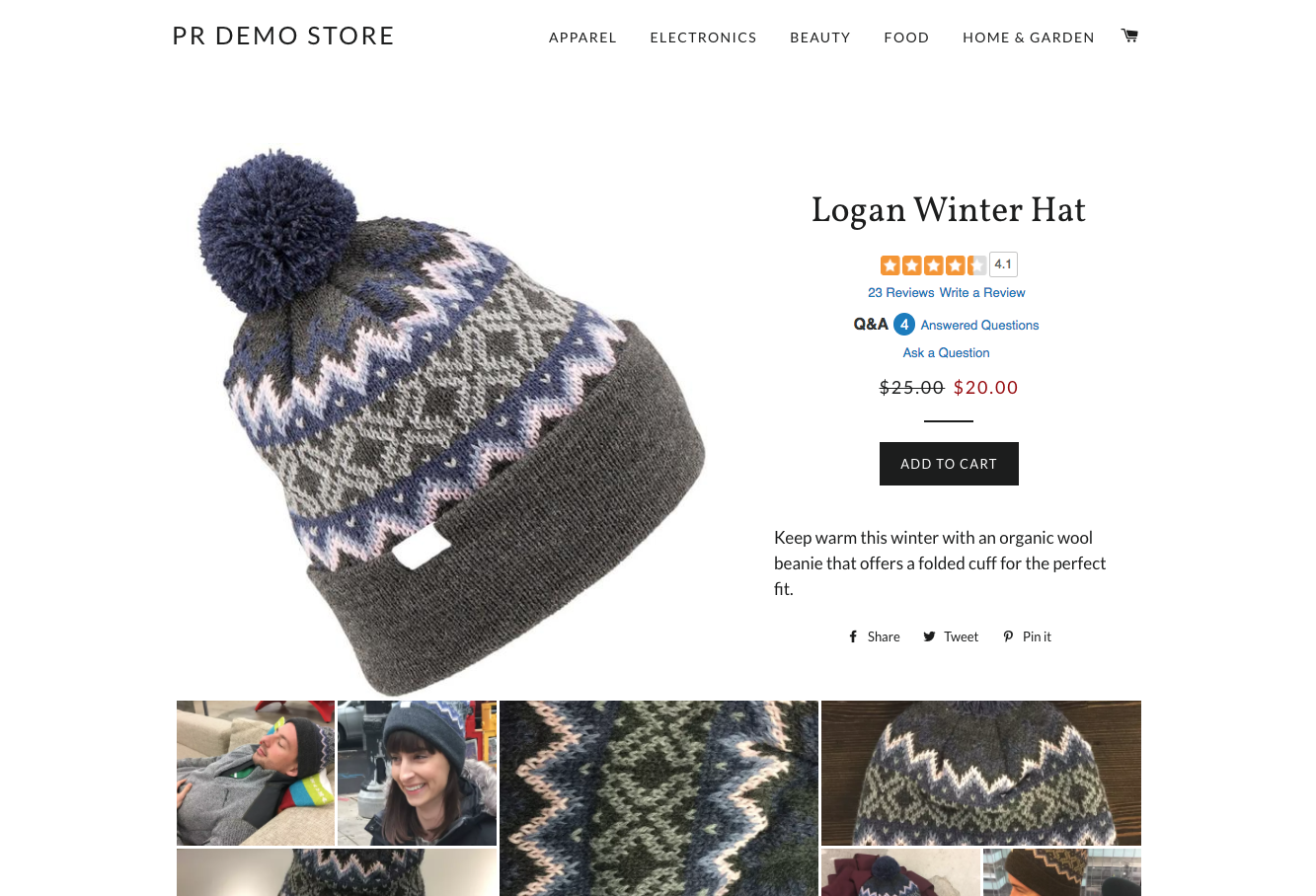 Then, think beyond the product page to identify ways to enhance other areas of your website with UGC, including category pages and even your homepage. For example, feature star ratings for your featured items or entice visitors to click through to a landing page that features top rated holiday gifts.
2. Enhance Holiday Advertising Campaigns
Social media, display, email and other targeted digital marketing campaigns can be a great way to reach more consumers this holiday season. To make yours stand out, add star ratings and review snippets to the advertisements.
For example, let's say you're a toy retailer promoting a new toddler learning toy that you've released in time for the holidays. You create a Facebook advertising campaign targeted at parents of toddlers. Then, you serve this audience an ad for this new toy that includes its average star rating, as well as text from a review written by a parent like them.
3. Add Star Ratings to Cart Abandonment Emails
If your shoppers are anything like me, they have no fewer than a million tabs open when they're shopping for a gift. It's easy to get distracted and leave the site without completing a transaction.
One effective way to bring shoppers back to your site to make a purchase is by sending cart abandonment emails. Adding star ratings and reviews for the items the consumer has in her cart can make these emails even more compelling. Bonus points if you include text from a review that mentions a product being a great gift.
4. Add Reviews to Holiday Signage
Ecommerce growth is expected to outpace that of overall retail this holiday season. But that doesn't mean that consumers are completely steering clear of brick-and-mortar retail. In fact, physical stores still play a large role in the holiday shopping experience for many consumers. According to data from the National Retail Federation, 47% of shoppers say they browse physical stores to find gift ideas.
[bctt tweet="47% of shoppers say they browse physical stores to find holiday gift ideas. " username="powerofreviews"]
If you have physical store locations, catch your shoppers' attention by including star ratings and review snippets on your in-store signage. Doing this doesn't have to be a big investment. Take a page out of Amazon's book and display star ratings and customer reviews on signs alongside your products. And be sure to include this powerful content in your window displays to attract additional foot traffic.
5. Syndicate Your Content
Sometimes, a consumer will purchase an item directly from a brand's ecommerce site. But in other cases, a consumer will make the purchase on the website of a retailer that carries the product. Review syndication — which is the distribution of user-generated content collected on brand sites to retail ecommerce sites — allows you to reach both types of consumers.
If you're a brand who syndicates reviews, you'll benefit from increased reach —  your reviews get in front of more consumers on more websites. On the other hand, if you're a retailer that accepts syndicated brand content, you get the benefits of having reviews on your site without having to generate them yourself. On average, retailers receive 58% of their review content from syndication.
[bctt tweet="Retailers receive an average of 58% of their review content from syndication." username="powerofreviews"]
Consumers today have more shopping options than ever before. This holiday season, capture the attention of more shoppers by featuring UGC in more places. Best of luck!