The holiday marketing season presents brands and retailers with an important opportunity to generate revenue and this year will be no exception. This year alone, eMarketer predicts US holiday ecommerce sales will grow 15.3% with a 3.8% increase in overall retail sales.
At the same time, holiday shopping options have brands and retailers battling between more competition. The biggest competitor–Amazon–pulled in 45% of all online transactions over Thanksgiving 2017 and more than half of Black Friday web purchases last year.
And those numbers are expected to grow for the ecommerce behemoth.
But there's good news. Seriously.
When brands and retailers effectively leverage user-generated content, including ratings, reviews and visual content, they reach more shoppers and generate higher holiday revenue. This is crucial.
After all, approximately 97% of consumers use ratings and reviews when making a purchase decision. What's even more telling is 88% specifically search for photos and videos of products submitted by other consumers.
So are you ready to leverage UGC this holiday season and beyond? To get you started, we've put together the following holiday marketing guide filled with proven best practices that have helped brands and retailers like you:
Collect more UGC before, during and after the holidays
Display content more effectively on product pages
Engage with consumers throughout the holidays to encourage more confident purchases
Cheers to a happy 2018 holiday marketing season!
Collect More Content–A Lot More Content
User-generated content such as ratings, reviews, photos and videos helps holiday shoppers make better purchase decisions. And better purchase decisions means less returned merchandise. Read on to explore our five proven best practices to generate more content before, during and after the holiday season:
1. Send Post Purchase Emails
Consumers often need a reminder to submit reviews. The best way to provide a friendly nudge is to send post purchase emails. Here you should ask your shoppers to write reviews for the products they've recently purchased. PowerReviews customers find about 60% of reviews are written as a result of a post purchase email.
Start sending post purchase emails that are short, personalized and easy to read and navigate on a mobile device. If you're already sending post purchase emails, identify elements to test and optimize to improve performance, including:
Subject line
Timing
Cadence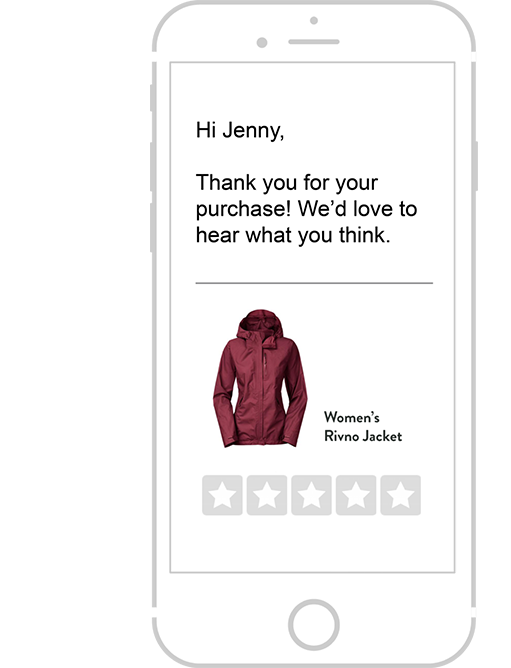 Test these elements now so your post purchase emails are optimized in time for the busy shopping season.
2. Generate Content for Multiple Items
In many cases, a shopper will order multiple items in one transaction. In fact, 60% of consumer orders coming to PowerReviews include more than one product. This means you likely have shoppers ordering several items over time.
Increase the amount of content you collect by allowing consumers to submit reviews, photos and videos for multiple products, all from one, mobile-friendly page. Adopting this best practice significantly increases your review coverage and data with some brands seeing a 300% growth, compared to requiring shoppers to navigate to separate pages to write each review.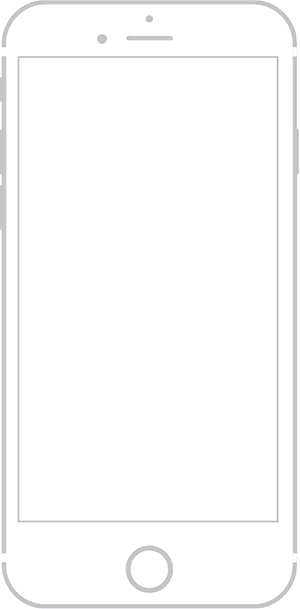 3. Collect the Information You (& Your Shoppers) Value
In addition to collecting stars and comments from your shoppers, collect other key information that helps guide future shoppers. For example, if you're an apparel brand, collect size and fit information from reviewers to help holiday shoppers purchase the right size items for their friends and family.
Average Results for PowerReviews Customers Using Progressive Collection
90% of users answer the first question
85% of users finish all of the questions
Your ratings and reviews provider should enable you to prioritize the collection of information that matters most to you and ultimately your shoppers. For example, Progressive Collection from PowerReviews allows your shoppers to write reviews and add additional insights about the products they purchased.This includes size and fit and use case information.
If a customer closes out of the review-writing screen, it's easy to return to the page and finish the review-writing process. PowerReviews customers using Progressive Collection find that on average, 90% of users answer the first question they are asked and 85% finish all of the questions.
4. Generate Content for Products That Need It Most
In the PowerReviews network, products with reviews have an 11% higher conversion rate compared to those without. That's why it's important to generate reviews for as many items as possible prior to the official kickoff of the holiday season.
Your ratings and reviews provider must prioritize the collection of reviews for products that need this content the most–including new products or those with low (or no) review volume.
For example, Intelligent Collection from PowerReviews allows brands and retailers to prioritize content collection for new products or those with low review volumes. This is done by putting these items at the top of the list of products available for a consumer to review.
5. Launch a Product Sampling Campaign
Perhaps you're launching new products in time for the holiday season. Or you have a list of product pages that have a high volume of traffic, but a low volume of reviews.
Launch a pre-holiday product sampling campaign, sending samples to your own list of consumers or an on-demand community of reviews. Then syndicate the reviews you collect to your key retail partners. That way, there will be plenty of reviews in place when shoppers search for gifts this holiday season.
[bctt tweet="PowerReviews Product Sampling has delivered an 85% review submission rate from targeted consumers." username="powerofreviews"]
Remember: product sampling doesn't have to be an large, or expensive endeavor. Rather than executing a large sampling campaign for a single product with hundreds of samples, Vornado, a PowerReviews customer, regularly executes smaller campaigns for multiple products. This allows the company to generate reviews across more of their products.
Pro Tip: For the sake of transparency, badge any reviews that result from a product sampling campaign.
Optimize Your Content Display
It's never been more important to provide your shoppers with all of the information to make smart and efficient purchase decisions. According to a survey from Deloitte, shoppers planned to purchase an average of 15 gifts during the 2017 holiday season.
Read on to learn best practices that make it easier for shoppers to find and interact with your user-generated content:
Showcase Visual Content
As previously mentioned, 88% of consumers specifically look for visual content (like photos and videos) submitted by other consumers prior to purchase. So when holiday shoppers hit your product pages, many are immediately looking for visual content in order to learn more about a product.
Be sure you're collecting conversion-boosting visual content from your shoppers–both natively and through Instagram. Then display this visual content in an image and video gallery directly on the product details page where holiday shoppers can easily find it. This will lead to higher engagement on the page and greater conversion.
Allow Shoppers to Sort Content
The rating distribution summary is the most common tool a user interacts with when browsing for products. According to Baymard, 95% of test subjects used reviews to learn more about a product from others like them. And 47% of those applied a filter so see only a specific type of review.
Make sure your product detail pages prominently feature a ratings distribution summary. It's also just as important that the summary is clickable for holiday shoppers to easily find the content important to them.
Help Customers Find Relevant Content
In addition to wanting information about product qualities including size, fit and material quality, a shopper also cares about information on uses for the product. For example, a shopper searching for athletic shoes for her husband wants to know if a specific pair are good for trail running.
Provide your holiday shoppers with a high level overview of the themes of the product, as well as an easy way to find reviews relevant to the buyer's needs.
Engage With Your Holiday Shoppers
Effectively engaging with your shoppers helps them make better purchase decisions and this allows you to build brand loyalty. Learn the four best practices PowerReviews customers use to engage with customers during the holidays (and beyond) to help them make more confident purchase decisions for themselves and others:
1. Allow Shoppers to Ask Questions
No matter how comprehensive your product information, consumers will still have questions about your products. Trust us. In fact, the same Baymard research found 40% of shoppers use Q&A to ask a question or get more product information. This is especially true when shoppers are purchasing holiday gifts they're not familiar with.
Add Question and Answer (Q&A) software to your website now to allow holiday shoppers to get answers to the questions that stand in the way of making a purchase. In addition to helping shoppers make confident purchase decisions, displaying Q&A on your products detail pages drives more SEO impact.
Doing this lets more holiday shoppers find your pages when starting their purchase journey on a search engine. Plus, PowerReviews clients have seen an 82% lift in conversion for products with answered questions compared to those without.
Pro Tip: Ask your Q&A vendor if they allow previous customers to answer incoming questions. PowerReviews research found that nearly two thirds of Centennial shoppers prefer having their questions answered by previous retailers.
Provide Expert Answers to Shopper Questions
When shoppers have questions, it's key to provide quick answers,–especially during the holidays when the shopping window is short. No one is better equipped to answer these questions than the brand that created the product.
For Retailers: Enable your top brands to answer shopper questions directly on your product pages. This allows consumers to get their questions answered quickly. This also allows you to reduce customer service costs.
Retailer Best Practice in Action
A top health and beauty retailer had 188 brands sign up to answer questions on their site and 7,261 questions answered during their first two months using Brand Engage from PowerReviews.
For Brands: Ask your key retailers if they allow brands to answer shopper questions on their ecommerce sites. For example, Brand Engage from PowerReviews enables brands to quickly view and answer purchase-blocking questions from consumers across retailer sites–all from one interface. This allows brands to easily interact with customers across all channels.
Brand Best Practice in Action
A top brand set up their Brand Engage account in only 30 minutes and answered more than 50 questions on their first day of use.
3. Respond to Negative Reviews
Even the best products can't be all things to all people. So every now and then, you'll get a negative review. Rather than being discouraged by this content, use it as an opportunity to engage with your shoppers. Effectively doing so can turn a negative experience into a positive one.
For Retailers: Allow your brands to respond to low-rated reviews, directly on your website. This allows your customers to get a response from a brand expert with no effort on your part.
For Brands: Ask your retail partners if they allow brands to respond to low-rated reviews. This allows you to engage with your shoppers and manage your brand's reputation across channels.
Pro Tip: Ask your ratings and reviews provider if you can be alerted when you receive a review below a certain star rating or with certain negative keywords.
4. Anticipate Your Shoppers' Questions
There are likely a number of common questions repeatedly asked about your certain products. Provide answers to these frequently asked questions–without your shoppers having to ask.
For Retailers: Enable your brands to proactively add frequently-asked questions with key answers to your product pages. This will decrease the number of questions your own teams have to answer and will give you an SEO boost from the additional content living on your pages.
For Brands: Ask your retail partners if you can add frequently-asked questions to product pages on their ecommerce sites. Then you can answer purchase-blocking questions from your customers wherever they shop for your products.
In Conclusion
No matter the size of your business, make this the year to improve your holiday marketing strategy. We provided a lot of tips to follow, but real change for your customers takes works.
Let us help you generate more revenue this holiday season with the help of a trusted community of everyday influencers and the tools to get your reviews and ratings in front of potential buyers. Schedule a demo with PowerReviews today to learn more!