Digital Impact of Reviews
As demonstrated above, ratings and reviews clearly have significant on-page conversion impact – that is the decision made by a shopper while on a product page on whether to purchase an item. But they also have a notable impact on driving visits to these pages in the first place.
In-Store Impact of Reviews
There has been much discussion about how customer journeys are no longer linear, involving multiple touchpoints across different channels.
In many cases, in-store shoppers are doing plenty of research before making an in-store purchase. 
In fact, 99% research products online before setting foot in a store. In addition, a large portion of consumers – 92% – pull out their phones to do research while shopping in a physical store location. Though shoppers of all generations do this, younger consumers tend to do it more frequently.
So it is perhaps no surprise that 84% look for positive ratings and reviews when considering in-store purchases.
We get asked a lot: how many reviews do I need to be successful? The answer is: it depends. Ultimately, this will be dictated by the channel you are looking to stand out on and what you are trying to achieve.
However, the general rule is the more, the better.
Review Volume Impact on Traffic
As demonstrated above, product pages with zero reviews account for 60.18% of all product pages on the internet but only 11.59% of all page views. Conversely, those with more than 1,000 reviews account for 1.67% of all product pages but 10.64% of all page views.
Review Volume Impact on Conversion
And we see the same "more is merrier" philosophy when it comes to on-page conversion.
Not every business will have the resources to collect 5000+ reviews. But there are significant lifts in each of the ranges so focusing on review collection should always be a priority.
Aside from the review count on a product, the average star rating is another key element consumers look for.
Star Rating Impact on Traffic
Average Star Rating Impact on Conversion
The sweet spot for conversion and traffic is an average rating of 4.5 – 4.99. Interestingly, pages in the 4.5 – 4.74 range attract more page views than those in the 4.75 – 4.99 range but the trend is reversed for on-page conversion.
The takeaway here for ecommerce practitioners wondering what targets they should set themselves: anything above 4 stars is good, 4.25 stars better, 4.5 stars better still and 4.75 stars the "North Star" goal.
All the while, you need to underpin any targets you do set yourself with the context of the specifics of your own business (e.g. vertical you operate in and competitors you're up against, pricepoint of your product, etc). Ultimately, consumer expectations – which are a big part of how shoppers approach submitting ratings and reviews – are dictated by a number of factors that are likely unique to your business.
These results make one thing completely clear: consumers pay attention to the average rating. That might sound obvious in and of itself but remember star ratings are rounded to the nearest half star – in other words, both a 4.75 average rating and a 5.0 average rating will appear as a 5 star on a product page. There is a significant difference between the conversion rates in both of these bands. This means that shoppers clearly look beyond the star visual when deciding whether to purchase a product.
One finding – again – is clear and unmistakable. Consumers don't trust 5-star average ratings. This supports much of our research: we have found a sizable proportion of consumers are suspicious of perfect 5-star ratings, including 46% of shoppers overall and 53% of Gen Z shoppers.
Recency is a MAJOR consideration for consumers.
Nearly all – 97% – of consumers consider review recency to be at least somewhat important when weighing a purchase decision:
Importance of Review Recency
How important is the recency with which reviews are written to you when considering buying a product?
Specific Review Recency Expectations for Consumers
In an ideal world, how recently do you like to see that review content was left on a specific product when assessing whether to purchase it?
When it comes to the recency of reviews, consumers have high expectations. Brands and retailers must make it a priority to consistently generate a steady stream of reviews so shoppers can always find the fresh content they've come to expect.
Consumers value review quality
Review quality – the depth of specific information and context included within a review – is a key consideration for many consumers.
The Vast Majority of Consumers Go Beyond the Basics and Read the Actual Review Content
When you read product reviews, how often do you look beyond the basic information (i.e. review volume count, review date and average star rating) to dig deeper and read the actual review content?
This begs the question: why? And what information are they looking for? The answer to this is: a lot of different things.
Shoppers want user-generated image & video more than ever
Types of Photos Consumers Value More
What kind of product photos are more valuable to you: professional photos supplied by the brand/retailer, or those supplied by another customer?
What to Include in Your Review Collection Form
Optimizing your Review Collection form is key to increasing review quality. But what exactly should you include in yours?
There's no easy answer. It really depends on your industry and what works for your brand.
The first step is to determine the types of information that will be useful to consumers considering your products. This is data you'll want to incorporate into your review display, so you'll want to include questions that address it in your Review Collection form. In addition, consider data you'll leverage internally to improve products, experiences, or internal operations. 
That said, there are common elements across the most effective Review Collection forms. In this guide, we'll explore the elements you'll want to consider when building (or optimizing) your Review Collection form, based on our experience helping more than 1,000 brands and retailers collect and display high quality reviews. 
Remember: best practices (especially those for your industry) are a great place to start. Then, you can measure and optimize from there to get the best results.
When it comes to Review Collection forms, there are five basic questions to include. Think of these questions as the foundation from which all Review Collection forms are built. They're must-haves.
At the end of the day, it's up to you to determine which of these fields are required and which (if any) are optional. However, it's best practice to make all five fields required. This is especially true for brands that syndicate their review content to retailers. That's because all five are required for syndication.
The star rating a shopper assigns to a product, on a scale of one to five.
Star ratings are really important to shoppers; 77% say they consider the average star rating when reading reviews. So it's important to collect them in your Review Collection form 
Typically, a product's average star rating is displayed at the top of the product page – alongside the number of reviews for the given product. This review snippet helps the shopper determine whether to explore the product further or look for other options.
The headline of a review is kind of like the title of a book. It helps shoppers determine whether they want to read the review itself.
At PowerReviews, we require a specific headline when a shopper submits a review. Be sure this is a field you include in your Review Collection form.
Other vendors allow brands and retailers to instead publish the first few words and/or characters of the review in its place. We don't recommend this because the headline acts as the customer's opening thought/recommendation on which they can elaborate on as they write their review. 
And then when the review is published, it's also super informative in determining whether shoppers decide to read the review or not.
There's no getting away from it: comments are the review. They provide the "why" behind the star rating. They offer reviewers the opportunity to share their specific sentiment(s) on the product under consideration.
Shoppers scrutinize this content to identify answers to questions on more intricate details that ultimately determine whether they buy or not. For brands and retailers, they also offer deep insight on customer sentiment specific to that product.
It's important to collect this written commentary within your Review Collection form. In fact, we feel very strongly that this should be a required field on all Review Collection forms. Research tells us nearly all shoppers look beyond the basic summary information in a review to read the actual content at least sometimes.
That's because comments provide context for star ratings – and can allow future shoppers to find reviews that speak to their specific needs, concerns, and use cases. 
Later on, we'll share some best practices for encouraging shoppers to provide longer, more detailed commentary in this field. 
A nickname is how a reviewer is identified and is typically displayed with the review to reinforce that it was written by a real person.
Because the bottom line is: Consumers value reviews because it's content written by others like them, without any motive. Displaying the nickname adds a human element to the review.
As such, the nickname is a foundational field to include in your Review Collection form. Some brands request the first name and last initial – and others allow more freedom. It's really up to you to determine what's in line with your brand.
Worthy of note: PowerReviews enables you to change these headlines to be whatever you want. However, there is a balance to be struck: we are very careful to ensure the privacy of your customers and recommend not capturing a reviewer's full name for this reason. With that being said, our sophisticated moderation techniques mean PII is extracted from a review before it's published.
Location is another important, basic element to include in your Review Collection form. Again, this information helps convey to future shoppers that this is a real review written by a real person. 
In addition, geographical location can be helpful for shoppers looking for relevant content. This is especially true for certain product categories. For example, consider a Chicago-based consumer shopping for winter boots. They're likely to value reviews written by other Midwesterners, as they experience a similar winter climate. 
Remember when we said longer, more detailed reviews are more helpful to shoppers? Well, it's a claim backed by data. A survey found that just about all (97%) of consumers seek out longer, more detailed reviews at least sometimes. And 68% say they do so always or on the regular.
Consumers Seek Out Long, Detailed Reviews
When you read reviews, how often do you actively seek out reviews that are longer in length and contain more detail?
When reviewers provide a lot of keyword-rich details, future shoppers are more likely to find content that's relevant to them. For example, a consumer with sensitive skin might seek out reviews for a cosmetic that specifically speaks to how it works for those with sensitive skin.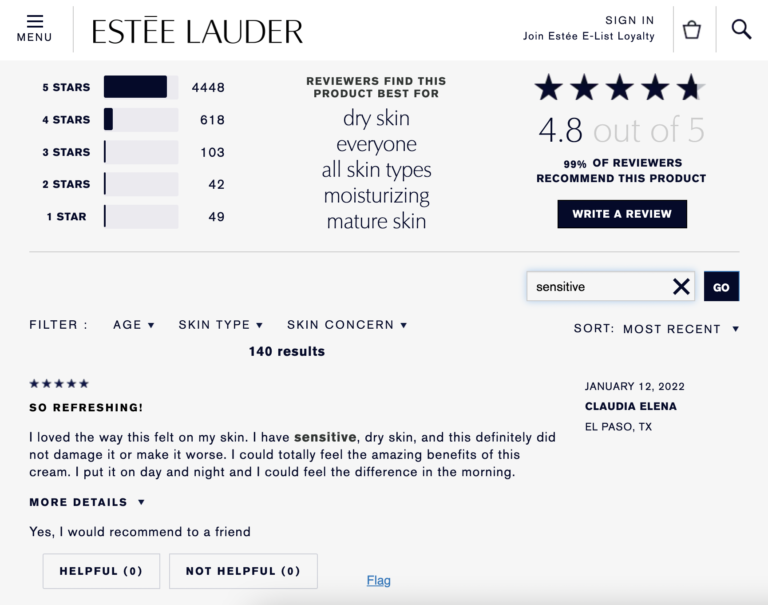 Including a review meter in your Review Collection form can help you generate more of those long, detailed reviews that fuel great purchase decisions. 
Essentially, a review meter is an interactive character count that appears below the comments box in the Review Collection form. As the reviewer types, that little green bar grows. When the review reaches the ideal length (you choose what that is), the meter lights up to let the shopper know they've written a great review – and to keep going if they'd like. It's super satisfying to the customer – and a powerful way to generate longer reviews.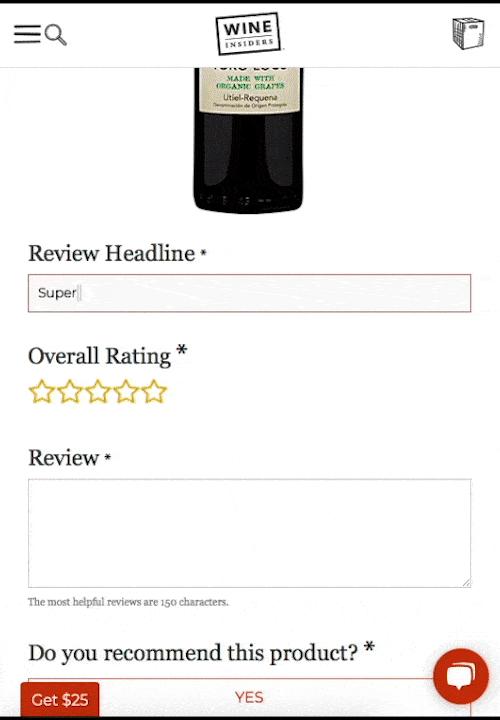 Writer's block is a thing – for novelists and review writers alike. A consumer may be willing to write a review. But faced with that big blank comments box, they just don't know what the heck to write. 
The result? They abandon the process altogether. Or, they write a super short, less-than-helpful review. 
One simple way to get the creative juices flowing (and get shoppers to write longer, more detailed reviews) is to include some helper text in the comments field. This text serves as writing prompts for the reviewer.
For example, the comments field of this Review Collection form for a skincare product asks the shopper to consider:
With PowerReviews, this can be completely customized. Maybe feedback from your customers highlights a desire for specific information about a specific feature of your product. With this text, you can capture more of this detail in your reviews.
Native Image and Video Collection
When consumers shop online (which they're doing a lot lately), they don't have the benefit of seeing and touching a product in person. Visual content, including photos and videos, helps bridge the gap. 
Brand-provided photos and videos are helpful to shoppers. But increasingly, they want to see content from others like them. A survey found that 77% of consumers always or regularly seek out photos or videos from others who have purchased a given product.
As such, customer-centric brands make it a priority to prominently showcase user-generated visual content on their product pages. A common way to do this is to feature a visual gallery with shopper-submitted photos and videos.
Brands who prioritize user-generated imagery reap some big benefits. Site visitors who interact with user-generated imagery on a product page convert at a rate that's more than 106% higher than average!
Power Pro Tip
There is a 106.3% lift in conversion among visitors who interact with user-submitted imagery on a product page
But in order to display this content, you must first collect it. The best way to do this is through the Review Collection form.
If user-generated content is a priority for you (hint: it should be), then be sure to add a field to your Review Collection form that allows reviewers to easily submit it. Allow them to submit the media natively – or from their social media accounts.
A review might be a few words long – or a few paragraphs. But at the end of the day, what the reader really wants to know is whether or not the reviewer recommends the product in question.
Many brands and retailers get this. It's why they feature the percentage of reviewers that recommend a product at the top of their review display.
Where do brands and retailers get this aggregated data? You guessed it: their Review Collection form. 
So, be sure to include a section in your Review Collection form that asks whether the reviewer would or would not recommend the product in question to a friend. Future shoppers are sure to factor in this information when deciding whether or not to explore the product.
Up to this point, we've focused on key elements of Review Collection forms that are important across all product categories. For example, asking for a star rating or review comments is key – whether you're selling jewelry or mattresses.
However, each industry and business is unique. That's why it often makes sense to include additional questions on your Review Collection form.
How many questions should you add? The short answer is, it depends. Here at PowerReviews, we generally recommend adding between two and five additional questions. This allows you to gather the insights that matter to your business and customers, without overwhelming them (by the same token, the form can also be set not to include any additional questions if that is your preference).
So, what additional questions should you add to your Review Collection? Again, there's no easy answer. You have to consider what data you (or your future customers) will actually use. Consider what data will fuel your review display, and what data you can leverage internally to inform product and customer experience optimizations. 
In addition, your ratings and reviews provider should have expertise in your business and your industry. So be sure to ask for their guidance in terms of question quantity, as well as what questions to ask. 
Remember: you never want to add questions simply for the sake of adding them. If a Review Collection form is too long (even if a lot of the fields are optional), you're likely to see a high abandonment rate.
With all that said, here are a few types of questions you may want to consider adding to your Review Collection form.
The star rating is a key component of a review. However, it requires customers to assign a single number to their overall experience with a product. 
Sometimes, brands and retailers want to get more granular feedback about various elements of a given product, including quality, value, durability, and comfort. They do this by adding subratings fields to their Review Collection form.
Displaying this feedback can help future shoppers better assess the product's attributes. What's more, this data provides businesses with insights about what shoppers like (and don't like). Brands and retailers can use this data to fuel product improvements. 
A survey found that 89% of apparel and footwear shoppers consider size and fit when considering an apparel or footwear purchase. But these factors are tough to assess when shopping online. 
Of course, tools like size charts help. However, many apparel brands and retailers also provide aggregated, customer-provided size and fit feedback within the review display.
If you're a brand or retailer that sells apparel and footwear, collecting size and fit information within the Review Collection form is a must. The size and fit information you'll want to collect depends on the type of product. For example, an apparel brand may opt to collect overall fit and sleeve length feedback for tops and jackets, and waist fit for pants.  
Displaying this information helps shoppers make better purchase decisions. What's more, it can dramatically reduce returns, as size and fit issues are a top reason apparel is returned.
3. Service & Delivery Comments
Typically, product reviews focus on the product itself. However, some brands and retailers also want to collect feedback on other aspects of the customer experience – including service and delivery. This makes sense, as the experiences a customer has with a brand can be just as important as the product.  As such, optimizing experiences can increase both conversion and retention.
Power Pro Tip
88% of consumers say the experience a company provides is as important as its products or services.
Source: Salesforce State of the Connected Customer 5th Edition
If you're looking to collect feedback on service and delivery, consider adding a service/delivery comments field to your Review Collection form. But remember: only collect this data if you plan to act on the insights it yields. 
Some brands and retailers build interactive review snapshots that provide an overview of all reviews written for a particular product. For example, consumers landing on this product page can quickly determine the product's pros, cons, and best uses – among other things. Shoppers can then click on any of these elements to hone in on reviews that speak to these specific factors. And research tells us that visitors who filter by these "tags" convert at a rate that's more than 78% higher than average. 
Power Pro Tip
Site visitors who filter reviews based on tags convert at a rate 78.6% higher than average.
In order to display this aggregated information for your shoppers, you've got to collect it in your Review Collection form. Typically, reviewers are provided with a selection of answers for each question. For example, pre-populated pros for a pair of shoes might include attractive design, comfortable, stylish, breathe well, and durable. The reviewer can also add their own.
A further benefit of including pros and cons in this way is that they can help get a customer's thoughts/juices flowing. As a best practice, these are typically served up before the review comment. This plants thoughts on the topics they may choose to cover subsequently. For example: if they regard "comfortable" as a pro, they might choose to elaborate on why in their review comment.
5. Merchant Specific Questions
There are certain tag-based questions – such as pros, cons, and best uses – that can be used in Review Collection forms across just about any product category. However, there may be other questions you may want to include in your Review Collection form that are specific to your brand. 
For example, a skincare company might opt to include questions about the reviewer's skin type and skin concerns. That way, the brand can add a feature to their display allowing shoppers to easily find content written by others with similar skin types and concerns.
How do you figure out which merchant-specific questions to ask in your Review Collection form? Consider what information would be most helpful to shoppers trying to decide if your product is the right fit for them.
For shoppers, the ability to filter only on reviews that directly address a personally relevant problem or concern specific to them is very powerful. 
As an example, think about skincare products: the capability to filter on reviews by users with oily skin is extremely helpful for shoppers with this skin type. In doing so, they are only served reviews who meet this specific criteria.
There are some instances where it makes sense to collect data in your Review Collection form that won't be included in your review display – but will be leveraged internally. For example, you may want to include a newsletter opt-in form to your Review Collection. It's a great way to grow your email list, with little effort. 
7. Ask Questions Specific to the Product
If you are a brand that sells different categories of products, you should definitely consider structuring your review collection form in line with this. In the below example, the brand has different forms for its skincare and hair care products. This makes total sense: buyers have completely different concerns when shopping for these items.
In these particular examples, the brand asks specific questions about hair and skin type. Incorporating this information in the review display is extremely informative in a highly personally relevant way for shoppers as they consider purchasing these products.
At PowerReviews, we make segmenting Review Collection forms by category like this straightforward.
The value of reviews is rooted in their authenticity. When consumers write reviews, they're not doing so to sell products. They're contributing content simply to share their genuine feedback – whether good, bad, or somewhere in between.
The Growing Concern of Fake Reviews
Yet, one simply needs to do a Google news search for "fake reviews" to see that the authenticity and trustworthiness of reviews is being called into question. 
Fake reviews have become more common than you may like to think – especially on certain platforms. And some brands have even gone so far as to suppress negative reviews in an effort to improve consumer perception. Just earlier this year, the Federal Trade Commision (FTC) fined clothing retailer Fashion Nova $4.2m for doing just that.
In the short term, suppressing negative reviews and publishing fraudulent ones can be a quick way to improve a brand's image – and grow sales. But in the end, these practices cause lasting damage. 
Phony reviews mislead customers. This leads to poor purchase decisions – and unhappy customers.
What's more, when a brand or retailer is found out (notice we said when, not if) for these unsavory practices, it can cause irreparable damage to their reputation. If consumers don't feel they can trust a company, they're unlikely to make a purchase.
Nearly all Consumers Have Stumbled Upon a Shady Review
How common are fake reviews? And what red flags do shoppers look for to determine if a review is phony?
Fake reviews have become all too common. Nine in 10 (90%) US consumers believe they've read a fake review in the past.
of consumers believe they've encountered a fake review
How US Shoppers Pinpoint Fraudulent Reviews
Most shoppers in the US believe they've seen fake reviews in the past. But what factors lead them to believe a review isn't authentic?
The top factor is the wording of the review or how it's written. This factor also tops the list among UK shoppers. 
Other red flags include poor grammar, extremeness (either too positive or too negative), and a lack of specific detail.
So, what does best-in-class ratings and reviews moderation look like?
First of all, it needs to account for each and every piece of content submitted by your shoppers. 
Every user-generated review, photo, video, question, or answer — should go through an extensive moderation process to confirm it's authentic, appropriate, and fraud-free. Each piece of content should also not be altered in any way.
All content that is published should appear as it is originally written, including typos and grammatical errors. This ultimately is critical to authenticity and snuffling out fake reviews.