Reviews are incredibly impactful when it comes to influencing purchasing decisions. More than 99.9% of consumers say they read reviews when shopping online, and over half (57%) do so when shopping in-store. When a shopper interacts with ratings and reviews on a product page, there's a 120.3% lift in conversion.
With all the benefits reviews have to offer, savvy brands and retailers rightly prioritize review collection in their marketing efforts. But, sometimes, in the rush to collect more reviews, brands and retailers forget the most visible result of those review collection efforts: the Review Display.
Review collection is a hugely important part of any UGC strategy. However, for those reviews to pay off, it's important that brands and retailers also consider how they are displaying those reviews to maximum impact. Below, we review ten review display metrics that can provide key insights into your customers' shopping behavior, and what you can be doing to increase their chances of conversion when they arrive on your product page.
1. Review Snippet Interaction
The review snippet is the star rating and review count displayed at the top of a product page, which customers can click to be taken down to the full Review Display.
There is a 164.3% conversion lift among consumers who click the review snippet, up from a 129.4% lift in 2020. 
Ensure that your review snippet is located above the fold, at the top of the product page. This prominent positioning ensures that those who want to explore your reviews can do so quickly. Also ensure your review snippet stands out, with brightly colored stars and a clear star rating.
2. Review Interactor Conversion Rate
Review interactors are the people who interact with your Review Display, such as by clicking to read a review, sorting the reviews, or taking some other action.
People who interact with reviews convert at a rate 128% higher than those who don't — in other words, simply interacting with reviews can boost conversion, regardless of the content. However, watching your review interactor conversion rate can also help you spot key trends. For example, if your review interactor conversion rate starts trending downwards, that may signal an opportunity to improve a product description, implement new product features, or otherwise take action to ensure your products are meeting customer expectations.
Design your Review Display so that it invites interaction. Encourage customers to vote whether a review is helpful or not. Add clickable filters for common tags (such as pros, cons, or best use case). Include a search bar so they can search for specific keywords.
This is the average rating for a product, based on all the reviews it has received.
Products with ratings between 4.75 and 4.99 stars tend to have the highest conversion rates. Consumers are suspicious of products with perfect 5-star ratings, which convert at about the same rate as products with 3.0 – 3.49 stars.
Regularly requesting ratings and reviews via post-purchase emails is the best way to maintain a positive rating. To improve a low star rating, listen to the feedback your customers provide in their reviews. Once you've made improvements, generate new positive reviews quickly through a sweepstakes or sampling campaign.
This describes the average number of reviews you have per product.
Review volume is important to consumers, with 79% of consumers "always" or "regularly" considering it when reading reviews. And, the more reviews a product has, the higher the conversion lift it experiences. In an ideal world, 65% of consumers would like a product to have more than 50 reviews, including 43% who think it should have over 100. 
Conversion Lift Relative to Number of Reviews Displayed
When shoppers visit your website, you want them to encounter a review count that makes them feel confident buying your product. Put review collection on auto-pilot with a post-purchase email campaign. Optimize your emails by allowing customers to review multiple products at once, from the body of the email, and always send at least two review requests.
Helpful voting allows a shopper to mark a review as helpful or not, usually with a thumbs up or down sign.
Our research shows that helpful voting is the type of review interaction that has the largest impact on conversion. There's a 414.3% lift in conversion among visitors who click the thumbs up icon. By monitoring which reviews your shopper finds more or less helpful, you can discover new opportunities to improve your product page. Shoppers may respond positively to product photos from real customers, inspiring you to add a UGC image gallery on your product page. Or, you may find that the most helpful review answers a common question you failed to address in your product description.
If you don't already have helpful voting enabled on your product reviews, start by enabling it. Then, check in on the most and least helpful reviews. What are your customers reacting to?
Many brands and retailers offer a review search function on their Review Display, so customers can hone in on exactly the reviews they're interested in. Your top search terms include the most common keywords your customers look up when searching through your reviews.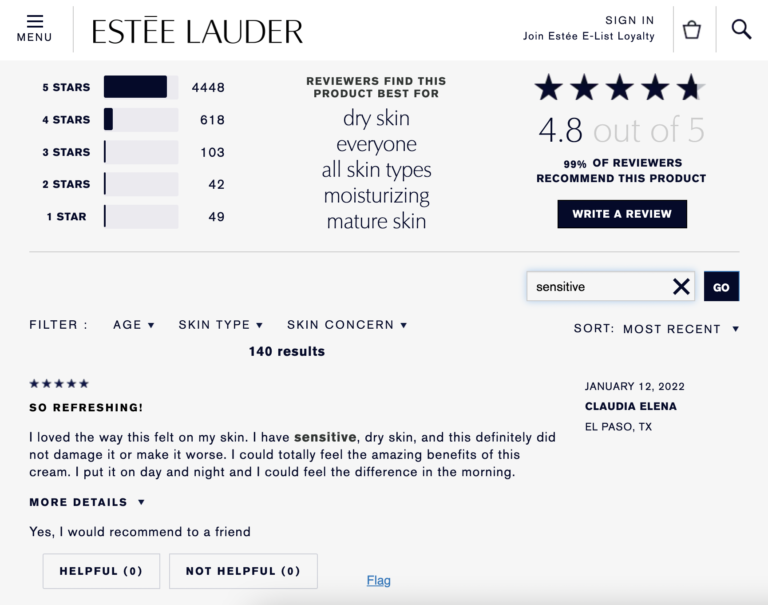 Regularly reviewing your top search terms helps you stay in touch with your customers' top pain points, which you can use to improve your product marketing. For example, you may find that customers are looking for a specific use case related to a product, such as whether a backpack can fit a "macbook" or "laptop," that you haven't addressed in the rest of the product page. 
7. Review Filter Interaction
Star filters describe how many people click to filter your reviews by a specific rating, such as 5 stars, while filter tags describe how many people click on specific filters you've set for a product, such as "feels true to size."
Clicking on either of these filters increases the conversion lift of shoppers — by 89.3% in the case of filter stars and 78.6% in the case of filter tags — making them essential elements to include in your Review Display.
Keep an eye on which filters are clicked most often. Be open to experimenting with new filters to ensure you are making your Review Display as helpful as possible. For example, you may want to update some of your pros, cons, or best use cases with some of the top search terms you find in your review reporting.
Some brands and retailers display a product's most liked positive review alongside its most liked negative review one, in what we call a review face-off. 
Displaying your most liked positive and negative reviews at the top of your Review Display helps shoppers quickly determine the best case and worst case scenarios of a given product. When shoppers click to read the entirety of either of these reviews — positive or negative — the product experiences a conversion lift between 114.3% to 128.6%.
Because these two reviews enjoy such a prominent position on your product page, it's a good idea to be aware of their content. Plus, both offer insights into the kind of information your shoppers find to be most relevant when making a purchase decision, which may inspire other areas of your product marketing. 
9. Review Sort Interaction
This describes how often people click on your review dropdown menu to sort your reviews by sorting options you select, such as Most Recent, Most Helpful, or Top Rated.
There is a 114.3% lift in conversion among shoppers who click to sort reviews, so it's worthwhile to have this feature enabled. Our research shows that the three types of review sorting behavior that have the highest impact on conversion are Most Recent, Highest Rated, and Most Helpful.
Conversion Lift by Type of Review Sorting Behavior
It's good to keep an eye on your customers' preferred sorting behavior. Based on what you find, you may change the default sort option to the one they select most often. Alternatively, you may find ways to make those other types of reviews more easily accessible, such as including a filter tag for reviews containing images.
10. Merchant Specific Questions (MSQs)
Merchant Specific Questions, or MSQs, describe the optional questions many brands and retailers add to their review form. These can range from questions about size and fit to demographic information.
Seeing which of these questions are more popular with your customers — and their corresponding star rating — can inform your product marketing efforts.
To make your Review Display more helpful, consider adding filter tags based on the most popular questions. If certain questions correlate with more negative ratings, such as "feels wide," consider updating your product description.
Start optimizing your Review Display with these tips
How you display and present reviews can have a major impact on conversions. For more tips on optimizing your Review Display, check out our official checklist of best practices.
If you're a current PowerReviews customer, great news: you can access all of these metrics in your reporting for free. Not yet a PowerReviews customer? Learn how we can help you do more with UGC.