The majority of shoppers plan to increase their holiday shopping this year, and 63% plan to do "most" or "all" of their holiday shopping online. 


UGC imagery isn't just a nice-to-have; it's a key element of the sales process. 99% of consumers specifically seek out photos and videos submitted from other customers at least sometimes. When visitors interact with UGC media on a product page, the product experiences a 91.4% lift in conversion.



Brands can leverage user-generated social images to provide social proof on product pages, curate shoppable galleries throughout their website, and amplify marketing efforts.
As a consumer, shopping online is easy if you know exactly what you are looking for. But what about when you don't know? What is the digital equivalent of window shopping or walking the aisles in a store? In other words: what makes shopping fun. 
Fortunately, there's social media. 
Social media caters to our desire as shoppers to explore. It allows us to experience the joy of discovery in a digital environment. For brands looking to increase online sales, having a strong social strategy will likely be a large part of your success.
Social media is a visual medium. It lives and breathes on images. Consequently, having  a library of product and lifestyle photos is now a critical element of success — especially those taken by your customers.
Today, nearly nine in ten shoppers say they are more likely to buy a product when it features user-generated photos and videos.
Clearly, user-generated photos are what the people want. Fortunately for brands, UGC images are easy to source. Curating images from social media is a great way to celebrate your community and to reinforce your customers' loyalty to your brand. Best of all, you can leverage those social images to sell on non-social channels like your website, emails, in-store , and advertising campaigns.  
Read on as we review the power of socially generated UGC, and how brands can leverage UGC imagery to boost sales this holiday season.
3 Reasons Why UGC Imagery is Critical to Ecommerce Success
Let's start by reviewing the latest stats that demonstrate how UGC imagery drives value, trust, and conversions.
1. Your customers expect to see it.
Today, nearly every consumer (99%) says they specifically seek out photos and videos submitted from other customers at least sometimes. Almost eight in ten shoppers (77%) say they regularly or always seek out UGC images when shopping online. 
Why? 80% of consumers find photos from other customers more valuable than photos from brands or retailers. This is a significant increase from 2016, when only 44% indicated they valued user-generated photos more than brand-supplied visual content (almost a 100% increase). 77% regularly or always do.
Types of Photos Consumers Value More
What kind of product photos are more valuable to you: professional photos supplied by the brand/retailer, or those supplied by another customer?
Also of note: younger consumers are most likely to value user-generated photos over those provided by brands and retailers. 91% of Gen Z shoppers and 85% of Millennials value user-generated photos more than professional ones.
2. UGC imagery drives conversions.
I'm More Likely to Buy a Product That Has Reviews that Feature Photos and Videos
While the presence of UGC images can lift conversions, their absence can have the opposite effect. In fact, a third of Gen Z consumers and nearly a quarter (21%) of Millennials won't purchase a product if it doesn't have photos or videos from other consumers who have purchased it.
3. A (UGC) picture is worth a thousand words.
In the ecommerce world — where customers can't see, touch, and feel a product — UGC imagery serves a particularly important function. It helps customers confirm that the product looks and works the way it appears in the brand's photos. 
It's no surprise, then, that the #1 reason why consumers value user-generated media is that it allows them to see what the product looks like in real life.
Top Reasons Consumers Value User-Submitted Photos and Videos
To see what the product looks like in real life
To get a better sense of the size or sizing of the product
It's more authentic and "real" than standard brand-created imagery
To understand how the product performs
To see if the product fits your own personal need
It creates trust in the product and/or brand
UGC imagery answers important questions about look and feel. It also enables customers to hear from other customers who have similar needs. That's probably why customers feel UGC visual content provides value for a wide range of product categories — not just obvious ones like clothing and electronics, but also groceries.
Consumers Consider User-Generated Visual Content Helpful for Many Product Types
6 Ways to Leverage Social Curated Images to Drive More Sales Online
Ecommerce has grown steadily year-on-year since pretty much the turn of the century. But Covid gave it a shot in the arm like no other event in history.
1. Highlight social media images on your product pages.
On your product pages, create galleries highlighting a mix of user-generated images from social media as well as those submitted with a review, like Janie and Jack does:
For those that accompany a review, include a link so customers can click through to read the review.
2. Curate galleries for your home and category pages.
Your homepage can feature a broad selection of customer-generated images from social media, whether it's your favorite images or the most recent. On your category pages, you can curate a more relevant selection of images.
For example, the UGC gallery on Janie and Jack's homepage features both boys and girls, while the gallery on their Girls Clothing page features only images of girls: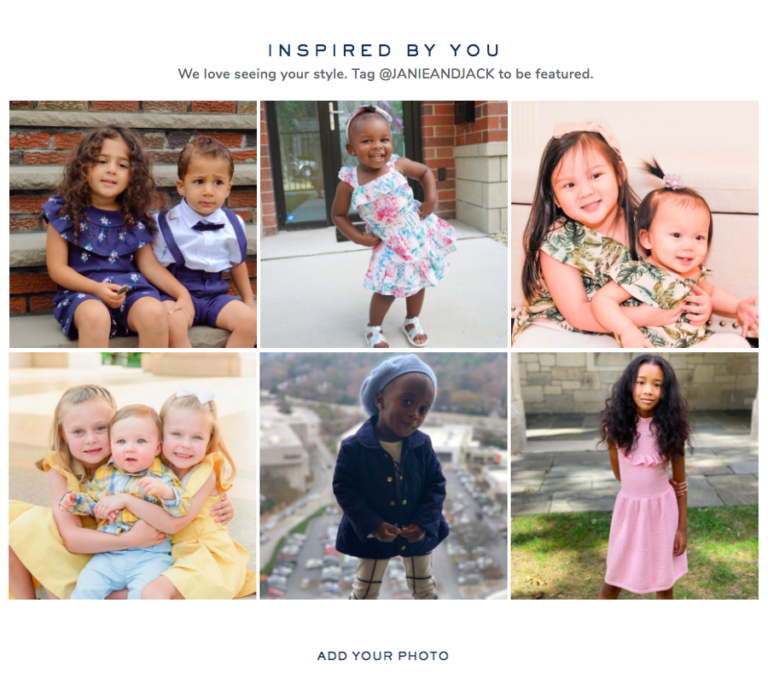 Power Pro Tip
Don't let supply chain issues hurt your bottom line. Promote the products you do have in-stock by using UGC to drive sales to those products instead of ones that are out-of-stock.
3. Amplify your content marketing.
Let's face it. Keeping up with the constant demand for new content can be exhausting. Give yourself a break and let your customers do some of the work! 
You can repurpose social media images from your customers throughout your content marketing campaigns — on your blog, emails, and social channels. Consider featuring product images in Holiday Gift Guides or Shop the Look posts. 
Here's an example from Milk Makeup, who regrammed one of their customer's posts to feature in a holiday blog:
4. Convince shoppers to buy online and in-store.
As essential as UGC images are to driving online purchases, they can also be used to influence purchases in-store. 57% of shoppers consult UGC on a brand's website while shopping in-store. 
Social media images can suggest different use cases for your product that may not be mentioned in the product description, thereby encouraging more purchases. Check out these examples from Shure. Customers used their microphones for practicing music, recording radio shows, and online teaching.
Get Inspired!
With PowerReviews Social Curation, Shure generated 1,200 images from social media in just a few months. Read the case study.
UGC images from social media can offer styling tips for apparel brands, or recipe inspiration for food brands, like this example from Canyon Bakehouse:
As the Canyon Bakehouse example shows, brands don't have to offer a transactional ecommerce experience to benefit from using social images and UGC on their website. Even B2B brands enjoy all the benefits (including the ROI boost) of UGC. Read more in our blog. 
5. Celebrate the holidays with influencers.
Just like reviews, UGC images are powerful social proof. Make sure to highlight influencer posts in your social media gallery, like Duraflame does:
Power Pro Tip
With Social Curation by PowerReviews, you can "safelist" your influencer partners so your social media gallery gets automatically updated as soon as they post about your brand.
6. Make social images shoppable.
Does your brand leverage in-app shopping on Instagram or Pinterest? You can do the same thing with your UGC galleries. On their website, Stuart Weitzman features a Style Gallery composed of images from social media. When customers toggle through the photos, they can see the specific products featured in the photo, and click through to purchase.
Get in the social spirit this holiday season
Your brand can use social media to lift conversions, strengthen customer loyalty, and spread awareness.
Brands and retailers which use PowerReviews Social Curation collect and display 221% more images and videos, and experience up to a 9.6% lift in conversion rate.